Phoebe Adams / Copy Editor
It's hard to believe a 16-year old could have complete control over a sold-out House of Blues, yet Billie Eilish managed to do exactly that on Friday night. She had no trouble commandeering the packed crowd from the moment she took the stage until the very last notes of her encore.
With a stage basked in red light, Eilish emerged from a set designed to resemble an enormous spider, an homage to her summer single "you should see me in a crown." She opened her setlist with "My Boy," the third track off her 2017 debut EP "dont smile at me."
Eilish's eerily beautiful vocals and eccentric dancing moved the audience in a way most artists cannot. She took full advantage of the space, often slinking across the stage like a tiger or ferociously jumping like a kangaroo.
She seamlessly transitioned from a bass-heavy snippet of Soulja Boy's  "Crank Dat Soulja Boy" into her piano-heavy ballad "idontwannabeyouanymore," her own personal outcry against society's unrealistic expectations of beauty and perfection.
Taking a moment to breathe, Eilish was unafraid of getting up close and personal with the audience. She sat draped over the edge of the stage just inches from the crowd while singing "Bored." She fearlessly reached forward, touching the outstretched hands of several lucky fans.
A neon yellow ukulele made its way into Eilish's hands for an acoustic rendition of her song "Party Favor." The yellow of the ukelele and her dyed blue hair were electric against her red Wu Wear ensemble and crisp white Air Jordans.
Eilish has written several of her own songs, and has stressed the significance of her lyrics, which became especially evident as she sat atop a stool singing her newest release "when the party's over."
'Don't you know too much already/I'll only hurt you if you let me/Call me friend but keep me closer (Call me back)/And I'll call you when the party's over'
The heartbreaking and emotional lyrics were juxtaposed against her intense stage presence and high energy performance of "you should see me in a crown." She even donned a crown for a few seconds before having to set it down, as there was no way it would stay in place through her eccentric dancing.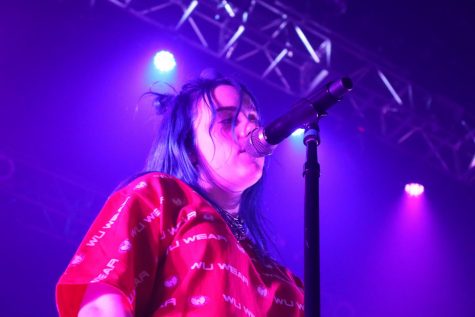 Eilish's final song before the encore was "bellyache," which she wrote alongside her brother Finneas O'Connell. The song was written from the perspective of a psychopath dealing with guilt, but ultimately not really caring about the consequences, Eilish explained in an interview with Billboard.
This concept reveals itself in the chorus.
'Where's my mind/Maybe it's in the gutter/where I left my lover/What an expensive fate/My V is for Vendetta/Thought that I'd feel better/But now I got a bellyache'
Eilish's fans were ecstatic when the teenager took the stage for her encore, as two of the songs she is most well-known for had yet to have been played.  
The first, "Ocean Eyes," was Eilish's first single, recorded when she was just 14-years-old.  The eerily alluring song tells the story of a lost love in such a profound way that many simply could not believe Eilish was so young when she wrote it.
For her closer, Eilish asked the crowd to do one thing and one thing only.
"Now for this last song I need you guys to go hard the whole time okay? All of you have to jump, watch watch watch, this is how you do it."
Eilish then demonstrated, quite simply, how to jump, and encouraged the crowd to embrace their inner kangaroo.  She even went so far as to suggest "opening the pit," a phrase used to signal fans to go absolutely crazy in the general admission, or mosh pit, area of a venue.
"Go crazy, go stupid, go crazy, I'm Billie Eilish lets get it" she laughed, before diving into the final song of the show. The first keys of "COPYCAT" began to play, and the crowd did indeed embrace their inner kangaroo, jumping in tune to the heavy bass that thudded throughout the venue.
At the end, Eilish once again sat down at the foot of the stage to thank her fans, grasping at the outstretched hands before her with a thankful smile on her face.
Although there is no perfect way to describe how captivating and hauntingly beautiful her performance was, Eilish's quirks and mannerisms made it a show that will not quickly be forgotten.