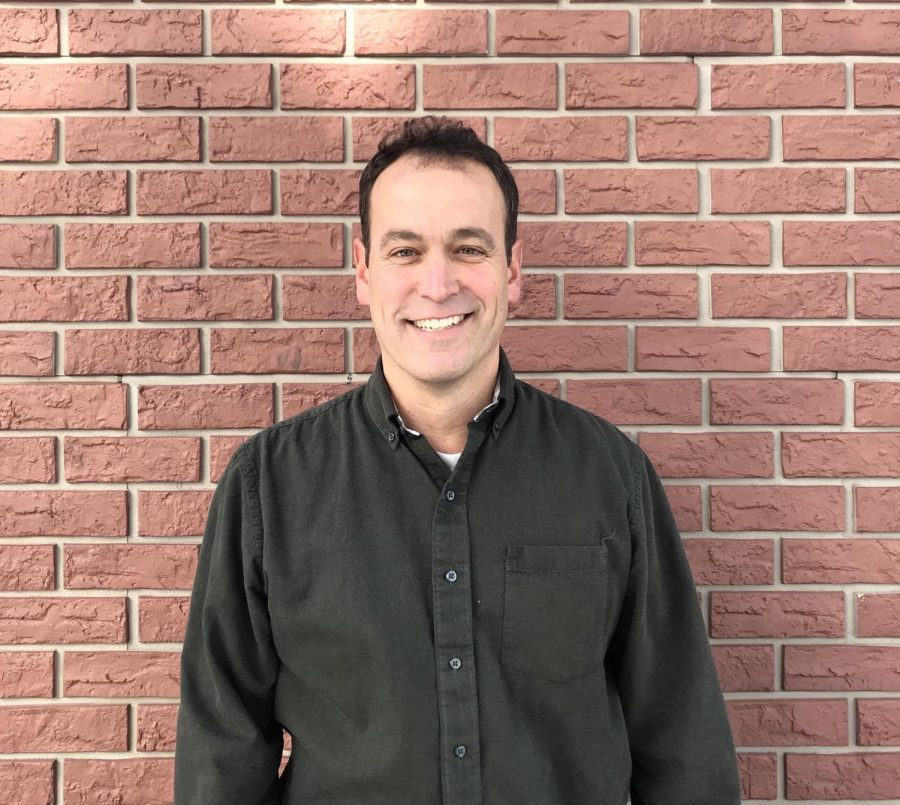 Associate Professor Bryan Trabold, 50, met his wife Kim Miller, 48, while he was an undergraduate at George Washington University studying political science and English. Little did he know that he would have the opportunity years later to spend nearly a year in post-apartheid South Africa because of it.
Trabold spent a few years as a VISTA volunteer in Boston working on the Commonwealth Literacy Campaign helping refugees develop reading and writing skills following his time at GWU. Later, Trabold worked for Louise Slaughter, a congresswomen who represented his hometown of Rochester, NY in the House Committee on Rules.
"I thought maybe I'd be interested in a life of politics, so after I spent two and a half years on Capitol Hill, I realized I didn't want a life in politics," said Trabold in an interview with The Suffolk Journal. "I thought I wanted to teach and I wanted to teach at the college level, so that requires a doctorate."
Trabold and his wife moved out to the University of Wisconsin-Madison in 1994, where they earned postgraduate degrees in English and in art history, respectively. In 1998, the couple, who had gotten married in 1994, moved to South Africa to complete requirements for their doctoral studies. They stayed there for nearly a year while Miller was lecturing at the University of Cape Town.
He and his wife lived in Cape Town for most of their time in South Africa. During the last month and a half of their stay they lived briefly in Johannesburg, one of the more impoverished cities during the apartheid regime.
As part of Trabold's dissertation, he looked at two opposition newspapers that spoke out against the apartheid government during the turning period from the apartheid regime into a democracy. Trabold looked at New Nation, which no longer publishes, and the Mail and Guardian, which survived after the fall of the apartheid regime.
Trabold merged his two backgrounds in political science and english to produce his book "Rhetorics of Resistance: Opposition Journalism in Apartheid South Africa," which looks at how writers found ways to speak out against the government, even though the government only allowed limited opposing views to be published.
"They weren't allowed to write about people who had been tortured, or had been the targets of violence by police, there were all these laws," Trabold said. "So what they would do is try to find loopholes by finding ways to write about the things they were forbidden to write about, staying within the letter of the law but still convey the information the laws were designed to prohibit."
With some disappointment, Trabold said that many of the effects of apartheid are still seen in South African society today. Many of the informal settlements that were raided by South African police time and time again during apartheid are still there. Although there has been progress, such as black South Africans finally having the opportunity to vote, a lot still needs to be done.
"What's happened now is that there is a larger, black middle class, but there are still tens of millions of black South Africans living in really grinding poverty," Trabold said. "[When] you drive from the airport into Cape Town, you drive past a lot of informal settlements where people are living in shacks without services and so forth, and then you drive into a very affluent city."
Recognizing his time in the nation was a very eye-opening learning experience, Trabold said his trip to South Africa with his wife was rewarding, both as a couple and academically. The two were able to see the growing of a once-extremely broken nation while researching topics they loved and being together through a crucial part of their respective doctoral programs. They got to meet "fascinating people" and made "great friends to this day" while researching there.
"Prior to having children, it was the great year of our lives, without question," Trabold said. "We were in a country that had been through one of the most dramatic liberation struggles of the 20th century."
Trabold and his wife went on to have two children. Miller now teaches at Wheaton College in Norton, MA, teaching African art and women's studies. Trabold generally teaches a variety of English courses, freshman seminars and freshman writing courses.