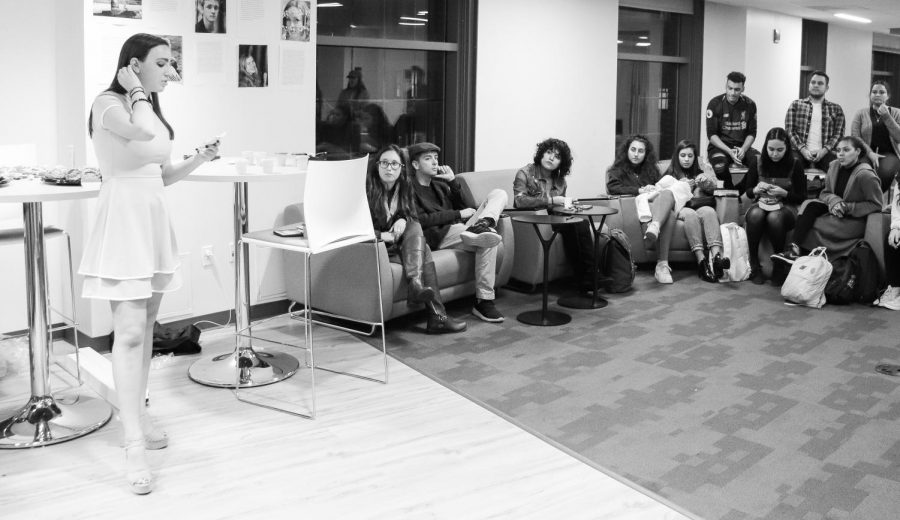 Ryan Arel / Arts Editor
The Journal has agreed not to reveal the identities of those who spoke without their expressed permission.
Junior marketing major Alex Molle struggled with a "toxic relationship" during his time at Suffolk.
"My time in this relationship left me feeling disrespected, unappreciated, and helpless," said Molle in an interview with The Suffolk Journal. "To say the least, I was emotionally abused."
Molle was one of the speakers at the first "Share Your Story" event, put on by the Suffolk University Photography Club and Suffolk University Healthy Minds Alliance. The organizations created a gathering designed to give attendees a place to tell their often untold stories about mental health issues.
Fourteen stories were posted on the walls of the fourth floor of Sawyer with headshots of interviewees and their stories for visitors to read before and after the gathering. Members of the Photography Club interviewed students who wanted to share their stories and took their photos for the display.
"I thought it would be a cool aspect to bring to have a picture to associate with the [stories,]" said sophomore psychology major Casey Grosjean, President of both Healthy Minds and the Photography Club. "People may look really happy in a picture, but that's not the whole story."
In the creation of the event, Healthy Minds and Photography Club were able to put together their first function of the year while also allowing for members of the Photography Club to practice their photography, in what Grosjean called a type of photojournalism project.
Grosjean gave opening remarks and moderated the event, which were often stories of trauma, tough up-bringings, depression and anxiety. Some told accounts of suicidal thoughts, substance abuse, post-traumatic stress disorder and other mental health obstacles.
Though attendees were encouraged to share their stories, the event also gave visitors the opportunity to listen to others, sparking subjects of discussion that are often left undiscussed.
"The stigma is people assuming things about mental illness, projecting them onto people and making assumptions that aren't true, like calling people crazy and dismissing people's feelings and emotions as if, 'it's not a physical ailment, then it's not real,' which isn't the case," Grosjean said. "The stigma is harmful because it makes people feel like they shouldn't reach out and that they can't because they feel like they'll be invalidated."
Students came and went throughout the gathering, and roughly 25 to 35 students were present at any given time during the two hour event, crowding the floor. To promote the event, post-it notes with motivating and uplifting phrases such as "The groundwork for all happiness is health #endthestigma" were placed around campus.
"In the months after the breakup, I prospered socially, became the genuine Alex that I had been strictly discouraged from showing in the relationship, and was overall happier," said Molle in an interview with The Journal. "For the first time in a year and a half, I felt true relief."
Healthy Minds was founded by Suffolk alumna Kiara Hernandez, who started the club during her junior year in 2016. Hernandez graduated with a degree in broadcast journalism and wanted the club to be a voice for those who were struggling with mental health.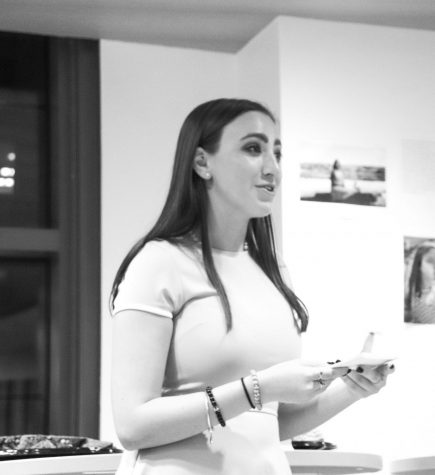 "I felt like it was difficult for me to find my place at Suffolk," Hernandez said in an interview with The Journal. "So I was like, 'I need to, I want to, start a place where this conversation can start.'"
When Hernandez was president, Healthy Minds Alliance had mental health public speaker Dior Vargas come speak at one of their events.
"It was really different compared to this. It was more of people listening instead of sharing their story," Hernandez said. "I think it was such a great thing for people to be able to talk about their stories because we don't realize that our stories can help other people."
This new type of open-discussion event is the first Healthy Minds has done thus far. The group hopes to have an event of this nature every semester if not more often, according to Grosjean.
"It was so moving to watch the participants bouncing ideas off of each other and being so supportive," said Molle. "I hope to see events like this in the future and once again want to acknowledge the amazing work of the Healthy Minds Alliance. Let's end the stigma around mental health once and for all."