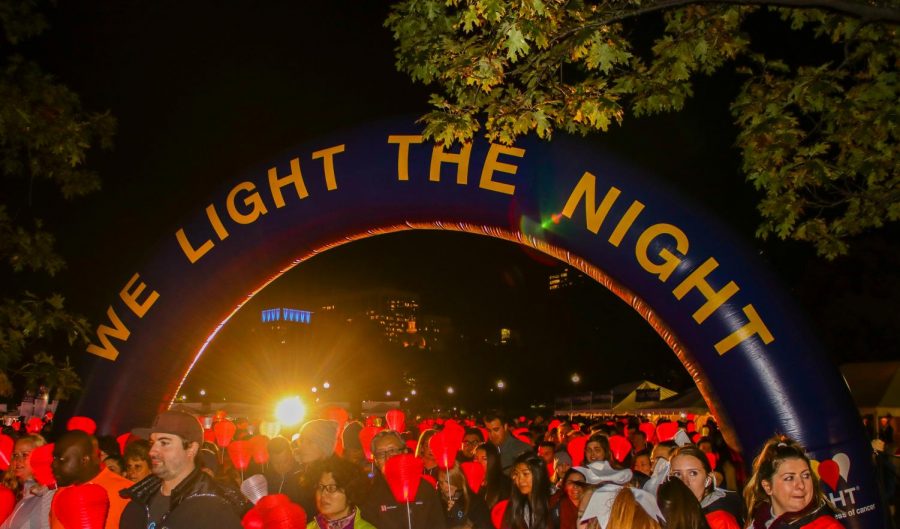 Mitch Bruehwiler/ Photo Editor
In a night of remembrance, hopefulness and support, more than 5,000 people flooded Boston Common last Wednesday to walk in the 17th annual "Light the Night" walk, a fundraiser organized by the Leukemia & Lymphoma Society (LLS).
The non-profit helps alleviate the financial cost of cancer treatments for families and patients affected by leukemia and lymphoma, two of the most common childhood cancers, according to event officials, as well as financing cancer research efforts.
Supporters could participate in the walk individually, in teams or as part of corporate sponsorships. Suffolk University's group "Love for Lara" participated in this year's walk and was founded by Associate Professor Melanie Berkmen roughly five years ago.
"Love for Lara" raised more than $2,000 this year, 21 percent more than their $1,700 goal and has raised more than $30,000 over the course of the team's existence, according to Berkmen. The team is partnered with the Suffolk University Honors Program.
The team was founded in honor of Berkmen's niece, Lara, who passed away from her fight with leukemia five years ago. Lara's passing was the inspiration for Berkmen to get involved with LLS. Lara was diagnosed with Leukemia when she was thirteen-years-old.
"I associated the team with the honors program for Lara. She would have been a great student," Berkmen said in an interview with The Suffolk Journal. "I'm very proud of our group and it's grown a lot."
Those who walked for the fundraiser carried color-coded lanterns during the lap around Boston Common. The color of any given lantern was determined by the purpose the participant had for being there: a red lantern was a supporter; a white lantern was a survivor; a yellow lantern was somebody walking in remembrance.
The opening remarks took place around 8 p.m. and were given by Vanessa Welch of Boston 25 News, as supporters, survivors and mourners crowded the Common. The stage had the words "lighting the path to cures" printed above it, and the words "when we walk cancer runs" printed to the right.
Following the lap around the Common, supporters gathered back were they started for closing remarks.
Uvette Lou, a pharmacist for Massachusetts General Hospital, held a white lantern on Wednesday night while walking with her team "MGH Pharmacy," and her dog, Gilligan. The team raised $1,671 according to the "Light the Night" website. She was diagnosed with cancer while on vacation in Switzerland shortly after starting her job at MGH.
"I had to come home and get chemotherapy and I had to take six months off work," Lou said in an interview with The Suffolk Journal. "Then I finished another year and eight months of chemotherapy while working full time after that. I finished chemo in June… Yeah, it's a little ironic."
Unlike half-marathons, Boston's "Light the Night" event did not require participants to perform physically exerting activities in order to directly participate. Junior radiation therapy major Alexia Baugniet, the team captain and current Honors Council President, said the event is a great way for all to rally for the cause without having to train ahead of time.
"It's not as competitive," Baugniet said in an interview with the The Suffolk Journal. "It's more about getting together."      
For those interested in donating to the Leukemia & Lymphoma Society, visit lls.org.