Learning from experience: Professor Ronald Suleski on 50 years of traveling Asia
Flashback to 1961: after recently enlisting in the army, 18-year-old Ronald Suleski was stationed in Uijeongbu, South Korea. Suleski found himself immersed in a culture he knew absolutely nothing about, but he soon fell in love with this new country and his lifelong passion for Asian culture was born.
Now, over 50 years later, Suleski continues his passion at Suffolk University as an Asian studies professor and director of the Rosenberg Institute for East Asian Studies.
Suleski had no intentions of pursuing higher education when he was in high school, but that changed shortly after arriving in South Korea. Although he was quickly captivated by the Korean people and lifestyle, he lacked any knowledge about them or their customs. This inspired him to pursue undergraduate work in cultural anthropology and later earn a PhD from the University of Michigan after he finished his military service in 1963.
"It opened a whole new world for me," said Suleski in an interview with The Suffolk Journal, while seated in his office surrounded by books written in foreign languages and an array of Asian art. "I just didn't realize that that world was out there, that it seemed I didn't understand anything. I wanted to learn everything."
After receiving his PhD, Suleski accepted a fellowship from the Japan Foundation to spend one year in Tokyo. However, at the year's conclusion, he was not ready to return home.
"Here in American culture where I grew up, I don't seem to notice something new every day," said Suleski. "Maybe I take everything [in America] for granted and I don't notice new things, but in Asia I was learning something new every day."
"
"Maybe I take everything [in America] for granted and I don't notice new things, but in Asia I was learning something new every day.""
— Asian studies professor Ronald Suleski
Suleski spent 20 years living in Tokyo, learning how to speak Japanese and forming friendships that would last a lifetime. He earned a living by working a corporate job in international publishing, where he spent 13 years.
Despite years of speaking Japanese and becoming fully immersed in Asian culture, Suleski said that people treated him differently based on his American appearance.
"When you're a white person in Asia, most of the Asian cultures give you a kind of respect," said Suleski. "However, at the same time, they're giving you discrimination. They're not letting you just do your business."
Suleski said he feels that he understands the plight of minorities in America because in Japan, he faced discrimination and he was pointed out of the crowd for being different.
"I don't want to be on display every time I step out my front door, and that happens everywhere in Asia when you're a different race, and it must happen to everybody who comes to the United States who is not a white person," said Suleski.
As he approached the end of his stay in Tokyo in 1994, Suleski said he grew tired of feeling alienated and was eager to return to university life, where he deepened his passion for Asian culture.
In 2009, Suleski achieved his position as an Asian studies professor at Suffolk. He said his experiences abroad have helped him in his teaching because he can speak concretely about Asia and share personal anecdotes, giving his students real life examples during class discussions.
Suleski spent his spare time writing his new book, "Daily Life for the Common People of China, 1850-1950." The book focuses on the everyday people of China, known as the Chaoben people, over one-century.
His research is based on handwritten manuscripts the Chaoben people created that were recently collected by paper recyclers and later sold cheaply at flea markets, where Suleski discovered the documents. After learning how to decipher the documents, Suleski learned about the people's values, hopes and fears.
Suleski said the original use of these research materials will open a whole new field in Chinese studies. "Daily Life for the Common People of China, 1850-1950" is supposed to be published sometime this fall, but there is no set date.
About the Contributor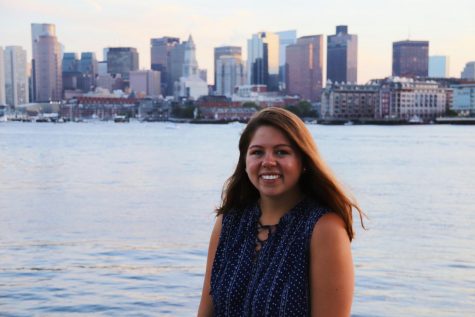 Morgan Hume, Arts Editor | she/her
Morgan is a native of Troy, New York and the Arts and Culture Editor for The Suffolk Journal. She is a rising majoring in print/web journalism and minoring in history. When she isn't scribbling into a notebook, she can be found drowning herself in cups of coffee, singing too loudly in the shower and exploring Boston, the historic city that has quickly become her home.
Follow Morgan on Twitter
@morganmhume