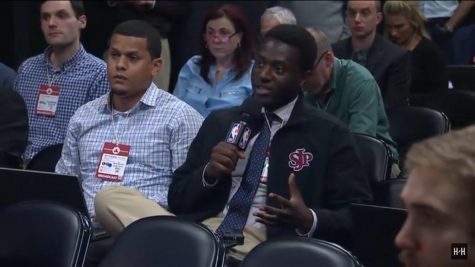 For many, the Boston Celtics unlikely 2018 playoff run unfolded on the screens of their television sets. For Clevis Murray, an incoming senior at Suffolk University, that was not the case. Murray had the opportunity to cover the team at each home game as a contributor for The Athletic Boston, a new online publication that looks to cover all major Boston sports.
This privilege did not get handed to Murray, as he worked hard to get to where he is today. Prior to becoming a writer for an actual publication, Murray grew a large following on Twitter, leading him to an eventual verification by the social media website.
"I reported on National Basketball Association news a lot along with bringing stats and the occasional meme," said Murray in a recent interview with The Suffolk Journal. "I would occasionally start breaking my own news in the high school ranks and in the NBA. I started my twitter niche in 2012. I kept it professional with a sprinkle of comedy since then."
Murray noted that he started receiving recognition on Twitter when he started breaking news with sources. Murray said he would occasionally get retweeted or mentioned by NBA players or insiders as a result.
Murray noted that before he received a job offer from any major publication, he used to reach out to NBA personnel on his own terms.
"If it was a General Manager, if it was a coach, I would find a way to get in contact with them," said Murray. "I had no way of getting in touch with the public relations teams, so I had to do it myself."
Recent Suffolk graduate, Jacob Tobey has worked alongside Murray in his collegiate career whether it is in the classroom, or in the workplace at CLNS media, a small media company that covers Boston sports.
"[Murray] has worked very hard to get to where he is now. He's always talking about the NBA and talking to people around the league," said Tobey in a recent interview with The Journal. "He's so knowledgeable and passionate about journalism. He's very easy to work with."
Working at The Athletic has given Murray a strong insight into what it takes to be a journalist covering a professional team.
Murray claimed that on game days, he arrived at the TD Garden at about 4:30 or 5:30 p.m. and would not leave the venue until about 2 a.m. He had about 45 minutes before and after the game to complete interviews in order to muster up a good story.
Though he is happy with his current position at The Athletic, Murray admits he did not expect to be writing for the publication as a junior in college.
"To cover an NBA team at the age of 20 or 21, nobody really sees it, I've always wanted to cover the NBA," said Murray. "But I haven't accomplished anything yet. I don't have a full-time job, but I can try my best now and hope for the best."