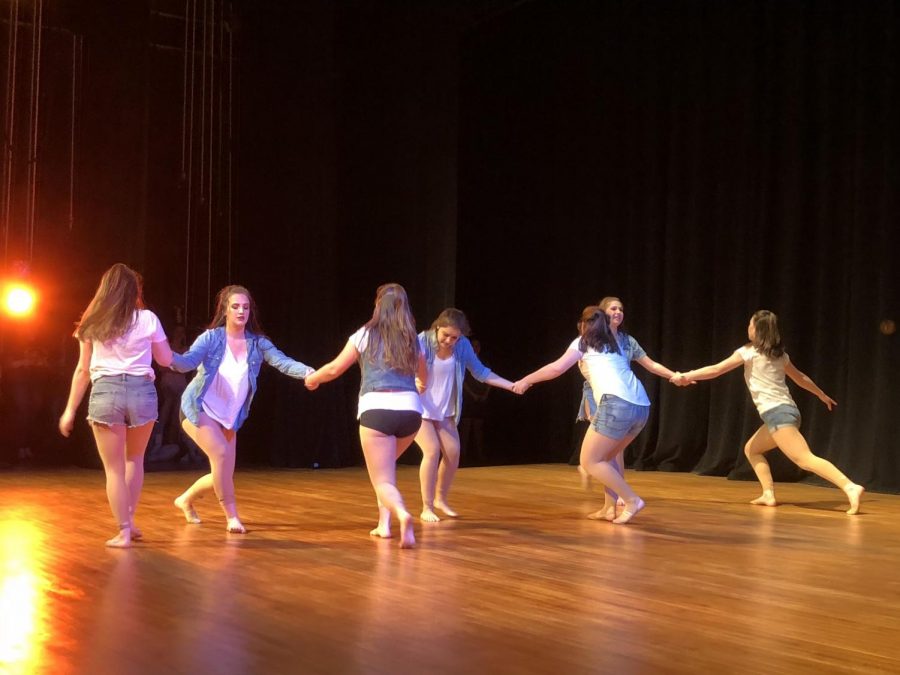 After a long academic year of practicing, performing and bonding as a unit, the Suffolk University Dance Company (SUDC) put their deepest sentiments on stage.
On Wednesday March 28, SUDC put on its second showcase show at Roxbury Community College. The show was hosted by freshman PPE major Ashley Ceravone as well as junior marketing and entrepreneurship double major Kristy Fitzpatrick.
Titled "Sincerely Yours," the show portrayed an assortment of emotionally motivated routines in a metaphorical representation of the pages of someone's personal diary or journal. Each routine put on by SUDC was an attempt by the dancers to portray their inner prosperity and passion, but also their inner conflict and heartache, using dances as a way to express words.
In eight different routines, SUDC showcased their talents and work ethic as a group alongside vivid performances depicting emotional trauma and dilemmas, but also elation and happiness.
SUDC opened the show with its pom-pom routine to the song "New Rules" by Dua Lipa. The dance choreographed by senior marketing major Michelle Lampert. The team debuted the routine on Feb. 14 this year during the pregame of the Boston Celtics.
"Gangsta" choreographed by sophomore graphic design major and current SUDC treasurer Annika Luk took the traditional SUDC style and scrapped it. In a funk-style routine, Luk produced an aesthetic of chaos that can be interpreted as a representation of her impulsive decision making and impromptu lifestyle. Starting with dressing the crew in tie dye shirts, the routine consisted of an array of rigid and jolty movements, contrary to the usual SUDC model of performance, which typically prioritizes elegance and fluidity. From the change in pace, "Gangsta" raised eyebrows in the crowd and shifted the tone to a more spontaneous and unpredictable method of performance unlike any SUDC dance seen this year.
In a heartfelt routine choreographed by junior management major and SUDC secretary Joanna Fenerlis, senior co-captain and finance major Shantel Vigliotta and junior co-captain and management major Sarina Cerulli, "Missing You" proved to be one of the most memorable dances within the show. A metaphorical send off to Vigliotta, who will be graduating, the three put their inner grievances about Vigliotta leaving SUDC on stage. The dance told the farewell story of Vigliotta, with Cerulli and Fenerlis, at one point in the dance, seen reaching and fighting for Vigliotta as she walks away, leaving them behind.
Vigliotta, who was co-captain of SUDC this year, expressed the three's emotions regarding the performance and choreographing of the routine.
"We thought that since the start of our friendship we should do a farewell because I was leaving and it was our idea to put it together," said Vigliotta in an interview with The Suffolk Journal. "That's the good thing about SUDC; we allow anyone to do their branch off the side, and do their own dance if they want in our show."
The team also brought back two of the company favorites, showcasing the routines "Feel It Still" and "Weathered," which the team first debuted at their fall showcase "Revival" back Nov. 15 of 2017.  
"Weathered," choreographed by Fenerlis, is arguably one of the group's finest routines as a whole and bring together almost all the facets and abilities SUDC has as a group. Fenerlis puts together a rollercoaster of emotions in an extravagant representation of all of the talent SUDC offers. "Weathered" is one one of the most engaging routines in its ability to interact with the music, as one of the most perfectly choreographed pieces SUDC showcased, in addition to its versatility.
SUDC was accompanied by guest dance studios OnStage Dance Company, From the Top Dance Center, The Dance Project and Jacqueline's Dance Studio. From The Top Dance Center was home to junior co-captain and management major Sarina Cerulli, and Jacqueline's Dance Studio was the studio of freshman international relations major Julia Baker in her hometown of Norwell, MA.
For those who could not make the show and wish to see the routines performed, the group can be seen on Youtube by searching "Suffolk University Dance Company."