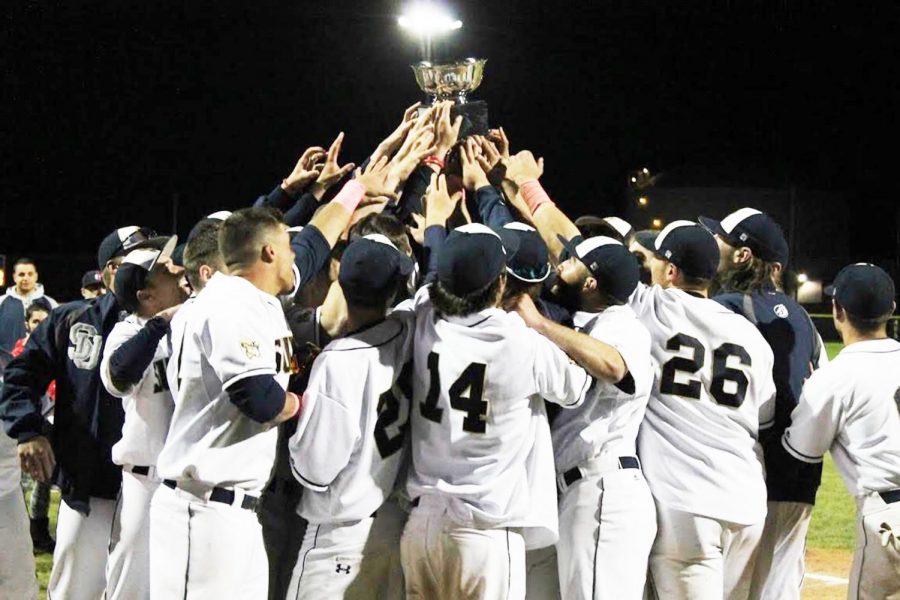 The Suffolk University baseball team looks to defend yet another championship title after winning a third consecutive Great Northeast Athletic Conference (GNAC) championship last season.
The Rams season will be in full swing as the Rams depart for spring training, playing the season opener under the lights against the Albion Britons at Chain of Lakes Stadium in Winter Haven, Florida on March 9.
After an impressive and historic previous season, averaging more than seven runs per game, the Rams were ranked as the No. 1 team in the GNAC Preseason Coaches Poll for the upcoming season, beating out contenders St. Joseph's College of Maine at No. 2, No. 3 Johnson and Wales University and No. 4 Lasell College, according to Suffolk's Athletic Department's website.
Regardless of the outcome of the coaches poll, fourth-year head coach Anthony Del Prete does not think the polls matter in Suffolk's preparation for the season ahead.
"While the coaches poll is nice recognition, the only thing that really matters is the score at the end of every game," said Del Prete in a recent interview with The Suffolk Journal. "Our focus is going out and competing and playing at a high level each and every time out."
Despite coming into this year off of a third consecutive championship, winning three in a row isn't enough for senior pitcher and finance major Mark Fusco.
"Obviously our ultimate goal is to win the championship," said Fusco in an interview with The Journal. "But right now we're just trying to show up and be better than we were the day before. Our focus right now is one day at a time."
Although the team hardly failed to put up runs last season, Del Prete has high hopes for the Rams, but believes the team will achieve even more with good performances on the mound and base paths. Last year, the team's pitching staff posted a collective 4.67 ERA and offensively collected a .298 team batting average, 12 home runs and scored 326 runs in just 45 games.
"I think our success in the NCAA Regional Tournament showed we can compete at the national level and have a chance to win each time we take the field," said Del Prete. "Overall, I think from top to bottom our pitching needs to be consistent and we need to do a better job running the bases in order to manufacture more runs and be more dynamic offensively."
The team will be led by redshirt senior Fusco, senior Brady Chant and senior Greg Speliotis, each returning for this season. Fusco will continue his presence on the mound, while Speliotis and Chant will continue to contribute offensively.
Although a fifth-year senior, in Fusco's sophomore year he underwent Tommy John surgery, which led to taking that season off and retaining his eligibility to play for the 2018 season.
"We're feeling great, we've been able to get outside a few times over the last couple weeks which is huge for us before going down to Florida," said center fielder Chant in an interview with The Journal.
Chant was ranked a 2018 D3Baseball.com Preseason Second Team All-American, was a Gold Glove Recipient and three-time All GNAC first-teamer.
The Rams went 28-17 overall in the most recent championship year, finding any way to put runs on the board and trusting the team's offense to tack on runs to win games.
"We'll use small ball if we need it," said Chant. "Generally we like to try and get out to an early lead for our pitchers."
The team, having lost some key players, is optimistic about what the new freshmen will offer in the team's pursuit of a fourth championship.
"We lost a lot of guys…Last year we had a ton of good players," said Fusco. "I think the guys we brought in this year are going to step right in and pick up where we left off."
With 15 new incoming players, the team hopes to quickly fill the roles of players that were lost due to graduation.
The team has worked on and off the field during the winter and the coming spring in preparation for the season, something freshman journalism major Johnny Maffei holds to a high premium.
"Freshmen are learning the ways, we know all of the times we wake up at 6 a.m. and go run that it'll be worth it," said Maffei in an interview with The Journal. "The coaches and upperclassmen are helping prepare us for game situations as best we can."
The Rams' home opener will take place on Sunday, March 25 against Rhode Island College at East Boston Memorial Park.