Joyya Smith named new vice president: After less than a year at Suffolk, Smith takes promotion
Dr. Joyya Smith has found a place to both "teach and learn" here in Boston- namely at Suffolk University.
Highered as the Director for the Center for Academic Access and Opportunity roughly 11 months ago, Smith has recently been promoted to a new administrative role as the Vice President of Diversity, Access and Inclusion this month. Smith, who previously worked at Georgia Southern University was struck by a phrase in Suffolk's alma mater during fall convocation that referenced teaching and learning as a symbiotic relationship.
"It just kind of stuck with me. That's so nice, we learn and we teach," said Smith. "And I'm thinking, well if we're singing this song then how are we making sure that we are [doing both]."
As someone who has been selected to teach CAS 101 and 201 this semester, Smith said she has enjoyed being in the classroom in order to have an opportunity to hear the voices of students first hand.
"In a teaching situation you really learn more than you teach," said Smith. "I'm grateful for an opportunity to be up close and personal with the students. Sometimes when you're in administration, you're not as close to students because you're helping to make sure that the other pieces of the puzzle are in place, but I'm excited to be able to serve in both capacities."
Initially, Smith worked with Suffolk's Diversity Task Force, where she said she was able to learn how the university has committed to ensure an inclusive community and championing diversity.
"I think it happens in pockets and I think part of my responsibility is to bring all those pockets together," said Smith.
The Diversity Task Force compiled a list of recommendations for the university, and Smith said she is working alongside Acting President Marisa Kelly in order to determine which policies and procedures to alter or enact.
"It starts with awareness," said Smith. "Sometimes we are not aware that maybe we aren't being as inclusive and it's more than just race and sexual orientation."
She said awareness is vital because oftentimes the notion that inclusivity is missing is not always recognized. Smith said it is more than just race and sexual orientation. Ability, college preparedness or lack thereof as well as first generation college student status are all important as well.
"There's a lot of keys that really make us think of about diversity from a number of perspectives," said Smith. "Being visible versus invisible diversity, of being sure that everyone that's here feels like they have a place that they can exercise their voice. And if they can be comfortable enough to learn something, that they can go out into the world and teach."
While at Georgia Southern, Smith's activity was closely tied with the TRiO Programs that have worked with first-generation and underrepresented students. These organizations, both at Georgia Southern as well as Suffolk Smith said, will "forever hold a place in my heart."
Since 2000, Smith had been assisting to plan Black History Month and Hispanic awareness events where she said in a recent  interview with The Suffolk Journal she helped to develop a group of students that served as diversity ambassadors. Smith also said she was involved in the programming of diversity training and multicultural awareness while at Georgia Southern.
The transition from Georgia to Massachusetts has gone smoothly, according to Smith, who said she hit the ground running. With her family in Georgia, Smith said she has visited typically once every other month, but has planned to take time back home in the spring to dodge the New England climate– her most devious challenge.
Joked Smith of her northern move, "That first winter I was a little Frozen Peach."
Weather aside, Smith said she hopes to work closely with leadership development programs, so that she may teach the next wave of those who will enter the world and educate others on the subjects of diversity and inclusion.
Leave a Comment
About the Contributor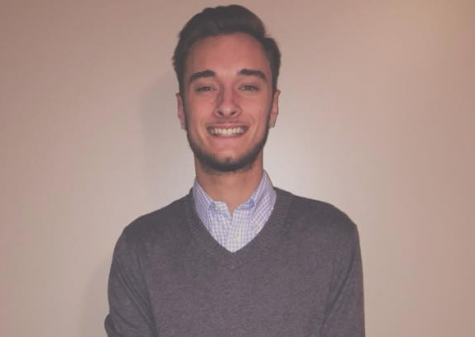 Chris DeGusto, Past News Editor
As someone who truly has no idea exactly what he wants to do in life, Chris' desire is to help those he cares about achieve their dreams. Chris welcomed a role that he never envisioned himself in; one that drives him insane.
Chris loves to tell stories, hence his passion: writing. If he's not in The Journal's office, you can find him catching up on the Sox or Celtics, studying the stock market or (unfortunately) riding the T to his favorite place in the world, Boston.
One day Chris hopes to write a book, well, actually finish a book he has already started. With a plan to travel the world and provide insight about his life experiences through his writing, Chris will always be attached to the city he calls home. And while he loves Boston more than anything, one reason why his book is not finished is because it doesn't have a suitable ending; he has a hunch that one day life will lead him to the west coast, to write him a new story.