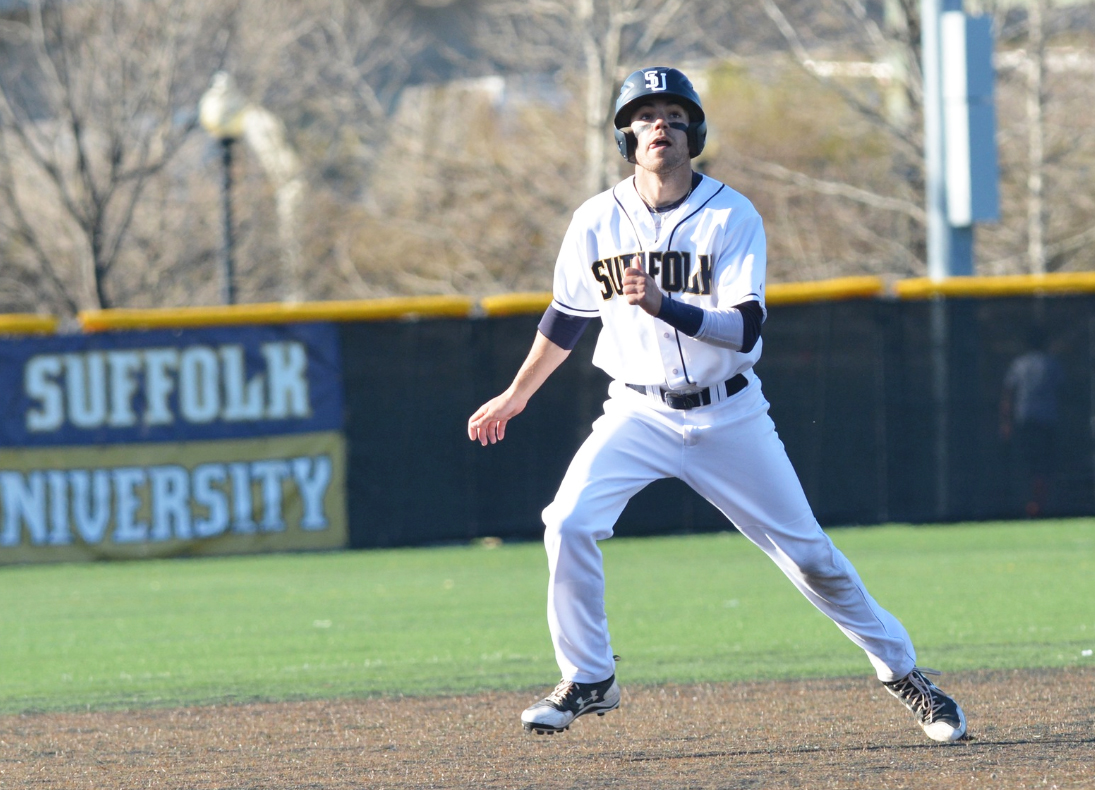 With seven games left in their season, senior second baseman BJ Neil said that his team's focus is to prove that his class was the "most successful in the history of Suffolk Athletics."
The past two seasons Suffolk has been back-to-back conference champions with wins over St. Joseph's College and Johnson & Wales University.
This season, the Suffolk seniors look to take the diamond for the last time, they will work toward a third Great Northeast Athletic Conference (GNAC) Championship.
"My favorite part about playing baseball [has been] being able to compete with my teammates," said Neil in an interview with The Suffolk Journal on Monday. "The relationship and bond teammates have with one another is unique to sports and cannot be created anywhere else."
Neil said that his time playing for Suffolk was filled with many memories of winning championships and forming bonds with his teammates that will "last a lifetime."
Even after he finishes his collegiate career at Suffolk as a student-athlete, Neil said that he hopes for baseball to remain a constant part of his life.
Left-hand pitcher Tim Conroy, who will also graduate this year, hopes for his team to end on a positive note this season.
He said in an interview with The Journal on Monday that his favorite part about playing baseball is that there is no time restraint on the game.
"Being a pitcher and having the ability to dictate the pace of the game at all times entitles you with a sense of power that you can't really find in other sports," said Conroy.
Conroy said that one of his most memorable experiences with the team was losing the conference championship in Maine against St. Joseph's College his freshman year. He explained that the loss helped his class develop as players moving forward.
"That alone I believe is one of the reasons why we have been so successful since. It's funny how the failures sometimes stick out more than the successes," said Conroy. "I guess that's just how you know you're a competitor."
As he plays his last games this season, Conroy said that he will miss his team and wishes them the best of luck in the future.
"I've never been closer with a group of guys my whole life and going to war with these guys over the past four years helped me develop some of the most lasting relationships that I can ask for," said Conroy.
Win or lose, Conroy said that he has enjoyed every high and low that the team has faced. He also hopes to help bring home one last championship for Suffolk seniors.
"[Moving forward] we're going to stick together, simplify the game and out compete whoever the opponent may be," said Conroy.
Throughout this season, both Neil and Conroy had contributed to their team's GNAC chances. Neil has acquired a batting average of .268, scored 15 runs and stolen three bases. Conroy had recorded of 2-1, 16 strikeouts and has pitched 24.2 innings
The Rams currently stand at the top of the GNAC with a record of 11-1. In total, the team has scored 245 runs, had a .316 batting average and .418 on base percentage.
"In order to win the championship this season, we have to play together as a team all moving in the same direction," said Neil.