Suffolk students' stock market schooling in blog
After the market crashed in the waning months of 2008, many people both enveloped within the industry and those seeking to profit off the trading of stocks, have been skeptical of the risks that come with investing their hard earned money. Last fall, two Suffolk University seniors launched an online financial blog, "Imperium Investment Analysis" (Imperium) to educate and inform current and prospect investors of the risks the stock market presents, and provide their own advice so readers and investors alike can formulate their own money-making formula.
"I'm a 22-year-old guy that wants to teach people from my experiences so you don't get scammed out of your money like I did," said Trenton Barnard.
Barnard, a senior who has acted as a portfolio manager for the Suffolk University Student Investment Fund, came to Suffolk from Utah, founded Imperium last October and the first blog post was published the following month. Barnard, a philosophy major, told a Suffolk Journal reporter in a recent interview that he initially made his first sum of money in stocks by investing in the Twitter IPO, and would often skip classes to trade. The former analyst for a Boston-based investment firm, Barnard quit his full-time employment in the fall to devote his time to Imperium.
Barnard quickly found a partner for his work, senior finance major Yashpal Balgobin, and said Balgobin's passion and dedication to learning allowed no hesitations when bringing him on board. Barnard said Balgobin was very apt to educating himself, by asking which tools he could utilize to create an influx of knowledge on the subject.
"I look up to this guy. He knows so much," said Balgobin of Barnard in a recent interview with The Journal.
At Imperium, the goal is to create high-quality business and financial content that is academically and practically valuable according to Barnard. Currently, Imperium operates as a free subscription, posting weekly stock lists and technical tips. This readership is at no cost  and is something Barnard intends to permanently keep.
"If you focus on delivering real, valuable content to people over money, the profits will follow," said Barnard.
Bannard discussed that Imperium's gameplan for this summer could potentially fruitify an inclusive product customers could purchase. A complete package of resources at a one-time flat rate is the goal for Imperium, which Barnard would consist of investment education products, e-book and a tailored program. This would allow investors using this package to uniquely view different methods based upon their personal interests and strategies, while also having the ability to view the entirety of Imperium's content.
"We are giving you the knowledge and education [for people] to build their own adventure," said Balgobin.
Balgobin's own investing adventure did not begin in the most prosperous manner, as he lost close to $1000 on penny stocks. Having followed another trader's "get rich quick" system and seeing the results not forthcoming, Balgobin said he took a step back, closed his portfolio, and absorbed the knowledge he would need to build his own strategy of investing.
He said other traders will sell you a platform and only one way to trade stocks, but Imperium is detail oriented, and has focused on being real with people to show them how to hone their craft.
"We want to make you an independent investor," said Barnard.
Barnard said he hopes to have co-sponsorships with firms in the future, but specified he wants to keep the Imperium website ad-free so that readers can focus on the content provided.
He said that people do not have the leverage with their money that they would like, to be able to exercise their finances on vacations, or making student loan payments. Trust from customers is a key factor for Balgobin, who said people do not have to spend thousands of dollars [like other programs charge] to access and utilize this investing information. He said it is essential to that the two partners at Imperium take time out of their days to deliver quality content to help investors "unlock another financial key."
View Comments (2)
About the Contributor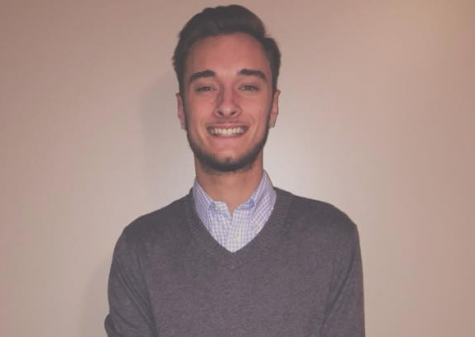 Chris DeGusto, Past News Editor
As someone who truly has no idea exactly what he wants to do in life, Chris' desire is to help those he cares about achieve their dreams. Chris welcomed a role that he never envisioned himself in; one that drives him insane.
Chris loves to tell stories, hence his passion: writing. If he's not in The Journal's office, you can find him catching up on the Sox or Celtics, studying the stock market or (unfortunately) riding the T to his favorite place in the world, Boston.
One day Chris hopes to write a book, well, actually finish a book he has already started. With a plan to travel the world and provide insight about his life experiences through his writing, Chris will always be attached to the city he calls home. And while he loves Boston more than anything, one reason why his book is not finished is because it doesn't have a suitable ending; he has a hunch that one day life will lead him to the west coast, to write him a new story.