Suffolk student killed after tragic accident
Hang on for a minute...we're trying to find some more stories you might like.
A 2013 Audi A8 collided with the ceiling of a Massachusetts Turnpike tunnel in Boston early Sunday morning, which killed a Suffolk Student. Yao Cao, a 19-year-old first-year Suffolk student and the driver of the vehicle, was pronounced dead at the scene due to the vehicle becoming airborne and striking the tunnel. He was an international student from Changchun, China.
Cao, having only been at the university since January, was a finance major within the Sawyer Business School. Acting President Marisa Kelly sent out a statement Sunday morning to the Suffolk community offering her sympathies to those who knew him.
"As you join me in mourning the tragic loss of one of our students, please know that my thoughts are with all of you in this very difficult time," said Kelly in the statement. In correlation with her sentiments, Kelly held a moment of silence on Tuesday afternoon at the University Forum on the expansion of the strategic plan.
An unidentified woman was also involved as a passenger in the vehicle and was immediately rushed to a local hospital with non-life threatening injuries, but as of late Tuesday night, there has been no update on her condition. Based on information by the state police, they believe the accident was caused by "excessive speed and impairment."
"The loss of such a young life is a tragedy beyond words," said Kelly. Cao was a part of the Freshman Second Language (FSL) pathways program, according to the university. The program aims to "provide students with the opportunity to earn academic credit in a supportive environment."
Apart from State Police, there were also Boston firefighters, EMS and MassDot officials on the scene of the wreckage, which ripped down many cables and wires from the tunnel.
Cao had resided in Chestnut Hill in Brookline during his time at Suffolk. A memorial service in still in the process being arranged.
About the Writer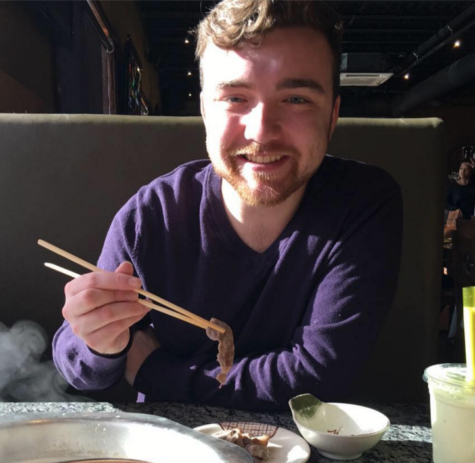 Patrick Holmes, Former Opinion Editor and Managing Editor
An advocate for human rights, Patrick Holmes aspires to help people through writing and to create that much talked about difference in the world. Through education, he sees a world that can change for the better and unite to actually be for the people. He believes every story is worth telling as long as it is the truest truth.
Holmes earned a Public Relations degree in the fall of 2018. Alongside this journey, he hopes to keep creating lasting friendships and helping people. His career path is the start to change.