Suffolk makes a difference for local pediatric cancer patients
The communal kitchen at Christopher's Haven was packed with Suffolk University students Tuesday night for the Center for Community Engagement's weekly service program.
The Center for Community Engagement (CCE) has been making trips to Christopher's Haven, a nonprofit that provides affordable, temporary housing for pediatric cancer patients and their families, every Tuesday since the beginning of the school year. Each week, Suffolk senior Stephanie Randazzo and sophomore Joe Piemonte have worked with a group of student volunteers to make a home-cooked meal for the patients and their families. Randazzo, the CCE's Community Partnership Scholar, spoke to The Journal on Tuesday.
"We try to cater to the families as much as possible," said Randazzo. "We always ask for requests."
Randazzo's willingness to go above and beyond for the families she has worked with is standard practice at Christopher's Haven; due to the generosity of a lengthy list of donors which includes the likes of Robert Kraft, owner of the New England Patriots, not a single family has ever been turned away for being unable to pay "rent" in the furnished apartments.
While Christopher's Haven got its start in 2001, the first apartment opened its doors in 2006. By 2008, eight more apartments in the West End opened for patients receiving treatment in the city and their families. Today, Christopher's Haven serves nine families at a time, with a tenth apartment, known as "the Loft," used as a community space.
Several  members of the Board of Directors and staff have been directly impacted by cancer, including Family Services Manager Catie Botting. Botting, who has two children of her own, said she knows first hand how important Christopher's Haven is for cancer patients.
"My son has a brain tumor – craniopharyngioma. He needed proton radiation, which is less harmful than regular radiation." Because such treatments are not readily available in all parts of the nation – Botting said only 23 facilities in the United States are equipped with proton therapy equipment, all of which are located around big cities – families often need to relocate to be able to get their children the care they need.
"When they told us we had to come to Boston, we called Christopher's Haven," Botting said. "We were immediately showered with love and support."
"It started as me and my two children coming to help clean apartments. From there it sort of built into this," Botting said as she gestured to the paperwork around her desk.
The Loft was filled with laughter and light conversation, hallmarks of normalcy in what can sometimes seem to be an anything but normal way of life.
"Just being able to see them come together over a meal and how much that means to them is a gift," Randazzo said as she set out a dish of fresh lasagna. "You might not think about it as a big deal, but they cherish that meal."
For Botting, the feeling was mutual.
"Organizations like Suffolk, individuals like Stephanie and Joe the kind of sustenance they bring here is a gift. [Suffolk's volunteers] have been by far the most impactful group we've had."
Leave a Comment
About the Writer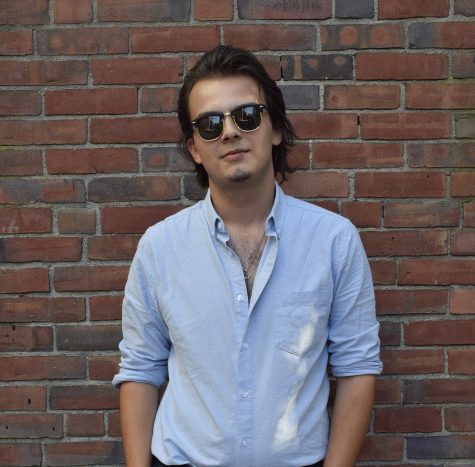 Nick Viveiros, Senior Staff Writer
Nick Viveiros is a senior majoring in Politics, Philosophy & Economics and Journalism. Born and raised in Fall River, MA, he began writing for the Journal in the fall of 2016.
Nick published his first book, the poetry collection this new world, during his first semester of college. His second book, Love Across the Zodiac, was released through his company, Quequechan Press, in mid 2019.
Follow Nick on Twitter @thenickviveiros 
or head on over to his website, nickviveiros.org