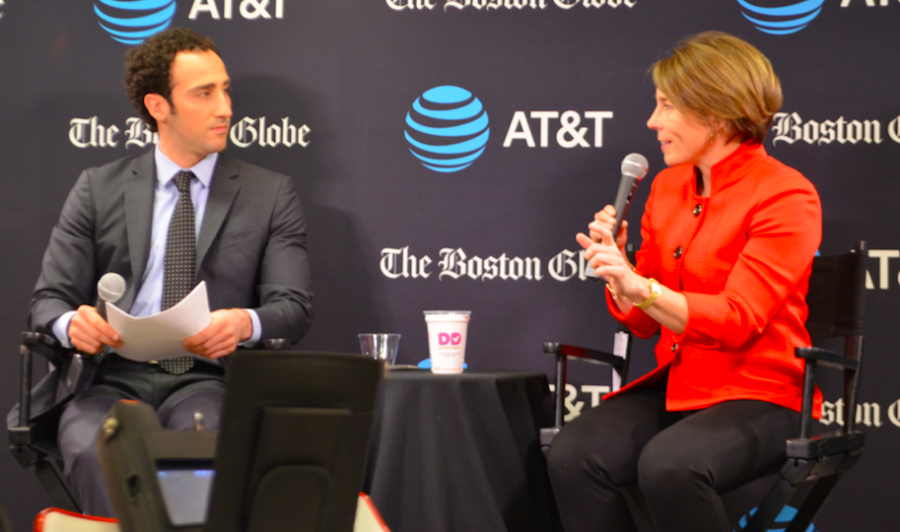 Massachusetts Attorney General Maura Healey has made it clear that she rejects particular actions and ideals that have emanated from the first few weeks of President Donald Trump's administration. In an interview last week with Boston Globe reporter Joshua Miller, Massachusetts Attorney General Maura Healey discussed her displeasure for the newly inaugurated United States' President, and said her place as Attorney General is exactly where she plans to stay, silencing rumors of a run at the Governor's seat.
In this "live political happy hour," Miller polled Healey in front of a crowded audience full of media members at AT&T's flagship store on Boylston Street on Wednesday. Politicians and members of administrative authority such as Healey now find themselves with a highly interactive platform to either support or denounce Trump, and impart methods of practice or legislation that incorporate local dealings.
In light of the situations that Trump has placed the U.S. into, Healey made it extremely clear that although talk have been swirling about a potential campaign for Governor, she is planning to stay put as attorney general. Miller bluntly asked Healey if her message to Democrats is to find a new candidate for Governor in 2018 to which the attorney general responded, "That is exactly what I'm saying."
"I plan to run for reelection as attorney general in 2018," said Healey. "I think that there's not a day that goes by that I don't more and more appreciate the responsibilities of the job right now. We certainly have a lot on our plate in light of the Trump administration."
Healey has her sights set on enacting change in the local community, and stressed the importance of the responsibility that Massachusetts has as a state. Explaining that she is heartened by the spirit, compassion, generosity and passion of the people of Massachusetts, Healey said she believes the state is heading in the right direction while the country as a whole may not be.
"I drive up my street every night and look at the Bunker Hill Monument," said Healey. "I think about the battles waged here I think about the revolution. I think about all the different movements from abolition all the way through marriage equality and about how Massachusetts has led on so many fronts. I have confidence that we'll continue to lead if we continue to stay true to our principles and values."
Healey said that fundamentally she is driven by the needs of the people, the problems of the people and what people deal with in their day to day lives in Massachusetts. Through the "challenging and precarious times" that the U.S. is inundated with, Healey said now is when people need to put the priorities of the country ahead of the prerogatives of political parties in order to do the right thing. In a time which the attorney general describes as something the nation has never seen before, Healey stressed the importance of a democratic approach as a whole.
"Now is not the time to go sit in rooms with simile like-minded people and talk about the State of Affairs but to reach out and have this conversation," said Healey.  "We need to build together as a state and certainly as a country right now."
While she condemned some of the moves Trump has made, Healey spoke of a positive aspect that came out of last year's election.
Democratic presidential candidate Hillary Clinton ultimately suffered a loss that to some was highly surprising especially, and many of the voter polls were incorrect. Even though there has been a plethora of "Monday morning quarterbacking," surrounding Clinton's campaign strategy, Healey views Clinton's loss as inspirational to people. Healey said people want to be involved now, that they want to run for political office even if at lower levels in hopes of making change and to act upon the initiatives and policies they support or have disdain for.
The attorney general said there is a sense of urgency to act now, and that people will soon realize the expectations and understandings of what Trump promised to deliver will fall short.
"The urgency is now. It was yesterday. It was proverbial yesterday," said Healey. "It's really outrageous and distressing to continue to hear the news each day [and] it just goes from bad to worse."
With news headlines that have portrayed the actions of Trump administration, Healey confirmed that the U.S. is not heading in a positive direction. Healey said she holds a great deal confidence in the American people however, and hopes that the people of this nation will remain strong in order to pave the way for a brighter future, but is skeptical about the interactions and relationships that have transpired between Trump's camp and Russia.
Healey also spoke in opposition of Trump's recent executive order that has put a strain on immigration toward the end of the discussion, and touched on the topic of a "sanctuary city." The attorney general mentioned this a phrase that bears different meanings in different places. She said that the practices and enforcements of a sanctuary city are dependant upon the location and situations that each experience, but said responsibility for safety and well-being of a community should rest on the shoulders of the local officials and police force. Having said that the executive order was harmful to law enforcement and has worried if immigrant communities are comfortable reporting domestic and violent crimes. She said the state of Massachusetts, along with herself have supported, and will continue to support, those communities which have been placed in a mindset of shock and fear of detainment.
"A couple weeks ago I was that same question by 12-year-old," said Healey.  "An American girl and her twin sister [who were] Somalian refugees came to this country seeking asylum. I told her we got her back, and there are laws to protect her and her sister and her family. But she started to cry."