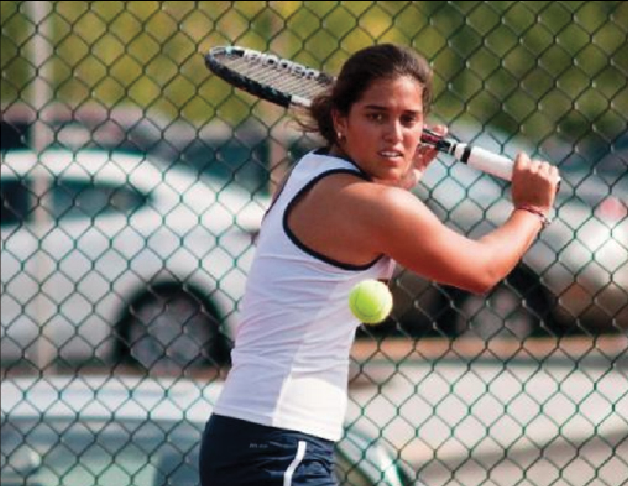 The rush and determination to succeed has motivated her to win every match she plays and excel in the sport  Valentina Medina loves– tennis.
Medina, who won Rookie of the Week six times and Rookie of the Year last season, has her reputation growing around the Great Northeast Athletic Conference (GNAC) and those who follow Suffolk tennis.
On Sept. 19, Medina was announced the GNAC Corvias Player of the Week.
"This means a lot to me," said Medina. After learning she was named player of the week before her match and classes on Thursday, "I love this sport and getting honors doing what I like the most is the best thing in the world. I have been working really hard to get better and give my best in every match, so it is nice that my hard work is paying off."
Ever since she was a six-year old back in Colombia, tennis was as natural to her as the hot weather in her native country. The sweat, heat and burning of feet she gets from the court now is what she's already experienced back home, except at a higher degree in comparison to the United States.
Medina thanks the sport for giving her the opportunity to make friends, who she thinks of as family.
"I love the competition," said Medina. "The adrenaline, the satisfaction of winning a match after you give all you have. But what I love the most about this is that you get to meet incredible people, people that can even change your life and make it better."
Despite her winning ways, Medina is a proponent of the notion that she offers more to the team than her on-court skills.
"I think I offer happiness and support to the team," she said. "They all know that I am always going to be there, outside or inside the court."
Medina's support to the team as one of the best players can go a long way for everyone else on the roster. The team was on a five-game losing streak, before their 6-3 win over Wentworth College this past Thursday. Prior to their win over Wentworth, the team had lost to conference rival and eight-time defending champions Simmons College 5-4. After that game — which was their fifth consecutive defeat — a team meeting occurred. In that meeting Medina said she told the team "we were all capable of winning that match, we just needed to fight more."
"I also told them to believe in themselves and that we have to fight until the end of every match," Medina said.
Medina realized that teams have to work things out with each other when the doors are closed and spectators aren't watching. What was said in that meeting led to a win in their next contest, and despite their 2-6 record, Medina is still optimistic on the season, as her goal is to win the conference and believes "the best is yet to come."
Suffolk is fifth in the GNAC standings after being ranked No. 2 overall in the coaches preseason poll. It looks like they're underachieving from the outside looking in, but to Medina, the team will be fine going forward. One of two things she wants is for her peers on the team "to stop giving up in the matches" regardless of score, and Medina wants her teammates to exert a little more effort, as she's a huge believer in the Rams defeating every team in their conference.
"I don't think my team has underachieved," said Medina. "We have only lost one conference match and that doesn't mean anything. It is always hard to play the first match, I was really nervous that day. But I think the team is going to start getting better now and hopefully we will be able to make it to the semifinals."
Medina is competing in the Intercollegiate Tennis Association (ITA) Regional Championships from Sept. 23-25 alongside teammate and two-time GNAC Player of the Year Aidiana Sagyndykova, according to the Athletics website. The two were selected by the New England region to compete in the tournament, which will be hosted by Massachusetts Institute of Technology (MIT). Medina headed to Cambridge with a perfect 23-0 singles record and 21-2 mark in doubles.
Medina had high expectations for the tournament, especially in doubles. She played with Sagyndykova, and believed that they both had "good chances of doing something big." She said the having the opportunity to compete with the best players from their respective universities and colleges is unbelievable.
The co-captains crushed the opening of their match; however the pair   were defeated in doubles playing against Trinity College of Connecticut. They both lost their singles matches.
In the meantime, Medina will continue to play the game she said she loves, and looks to achieve her goals for the season.
"This is something that I love," said Medina on her love for Tennis. "I just give my best every time I play so that's why I am able to maintain such a high level of play."