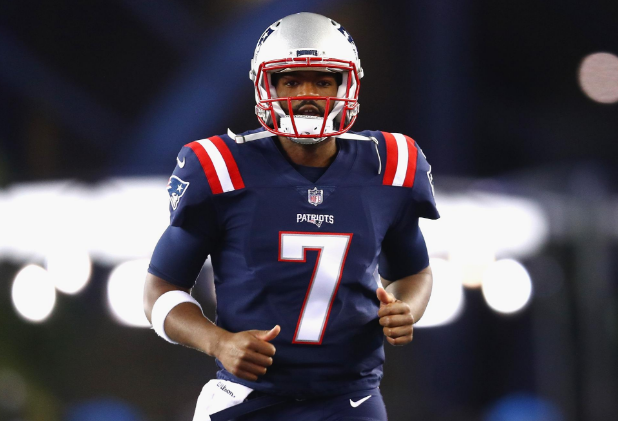 Tom Brady? Suspended. Jimmy Garoppolo? Injured. Third string quarterback Jacoby Brissett? Leading the New England Patriots to victory.
What was so astonishing about this victory was the odds in which the Patriots were facing. Top receiving target Rob Gronkowski was still hampered by his hamstring injury, the third string quarterback was starting and their backup was the team's top wide receiver. Somehow the Patriots survived, not only survived, but they thrived Thursday night.
Jacoby Brissett was no Tom Brady but he was very impressive in his official debut, being the first rookie to start the game at quarterback for the Patriots since 1993 when Drew Bledsoe came into the league.
Brissett did exactly enough to lead the team to its third straight win going 11-of-19 on pass attempts for 103 yards and ran eight times for 48 yards and a touchdown.
The biggest highlight was a 27-yard touchdown run which was the longest for a Patriots quarterback since Steve Grogan went 41 yards for a score in 1976, per TSN. The longest run of Tom Brady's career is 22 yards.
"I was just running until I got stopped," Brissett said. "It worked out how we planned it was going to work out. The guys up front did a great job and Malcolm on that side did a great job blocking that guy."
Even without the team's big tight end, the Patriots feasted on the Texans who turned the ball over three times, two times were on fumbles by the special teams. The underdogs going into the game came out as the top dogs.
"Super hyped, super happy for the whole team, especially Jacoby," tight end Rob Gronkowski said to ESPN reporters after his catch-less debut. "You've got to give hats off to our defense, the way they play, the turnovers, just unbelievable."
The highly talented Texans defense did not quite look like itself.
The league's top defensive player, J.J. Watt, is still clearly hobbled after recovering from offseason back surgery.
According to Field Yates, JJ Watt's stats vs. all other teams: 76 sacks in 79 games, but Watt vs. the Patriots: 0 sacks in 4 games. The Patriots have found a way to keep Watt from doing anything effective.
When asked about the Texans play Watt said to reporters in a press conference, "The Patriots played a great football game. They played really well and they deserved to win tonight. We didn't play well and they played very well." said Watt, "They played a great game and they did a great job all around and we didn't do a good job, really in any category, so they definitely deserve to win."
In addition to their poor defense tactics, the Titans' offense was not able to get on the Patriots side of the field until the second half. Texans quarterback Brock Osweiler reiterated the offense's struggles:
"I think anytime an offense struggles with developing a rhythm, struggles with scoring points," said Osweiler, "I think the first thing you have to examine is the quarterback, and I'll take the blame for this one. Anytime a team doesn't score points, it's on me."
After the game reports also surfaced that Brissett tore a ligament in this thumb and would require surgery. Various reports have suggested Brissett's injury actually isn't overly serious. But, the Patriots could still face a dilemma with Tom Brady suspended for one more game if Brissett or Garoppolo can not become healthy enough for week four.