Oscars remain gold amid controversy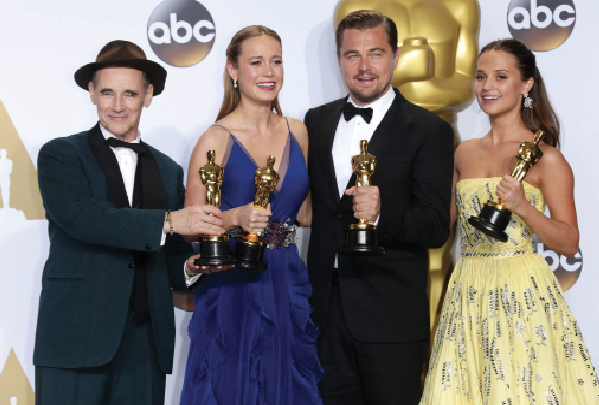 The 88th Academy Awards aired on Sunday to the second lowest viewership in its history. Chris Rock hosted the ceremony amid the #OscarsSoWhite controversy in which all the acting nominees, and most nominees in other categories, were white.
"Welcome to the Academy Awards, otherwise known as the White People's Choice Awards," said Rock. "You realize, if they nominated hosts I wouldn't even get this job. You'd be watching Neil Patrick Harris right now."
In his opening monologue, Rock stunned the audience with a relentless slew of jokes and commentary about race and the lack of diversity in the film industry.
"You're damn right Hollywood is racist," the comedian jabbed.
Veering away from what it had done in previous years, the telecast awarded winners in categories in the order in which a film is made. The first Oscars of the night were handed out to the writers of "Spotlight" and "The Big Short" for Best Original and Adapted Screenplay, respectively.
The Oscar for Best Supporting Actress went to Alicia Vikander for her work in "The Danish Girl," while "Bridge of Spies" star Mark Rylance took home a statue for Best Supporting Actor, delivering a knockout punch to "Creed's" Sylvester Stallone in an upset victory.
Rock had his daughter's Girl Scout Troupe sell cookies to members of the audience, including Christian Bale and Morgan Freeman, who were seen munching on them throughout the show.
The awards portion of the show took an unexpected turn as "Mad Max: Fury Road" went on to win Oscars in six of its 10 categories, with all its wins coming within six of seven presented categories in a row. Comedian Louis C. K., who presented the Oscar for Best Documentary Short Subject, even joked that "Mad Max" had won in that category as well.
Vice President Joe Biden introduced Lady Gaga's performance of the song "Til It Happens To You" from the film "The Hunting Ground" with a strong message about ending sexual violence in our society. Gaga, herself a victim of sexual assault, delivered a powerful rendition of the song, which was written about and has become an anthem for the cause. In an incredibly moving showing, 50 survivors of college campus sexual assault joined her on stage. They had messages of strength and resilience written on their arms, including "not your fault," and raised them up together in a demonstration of unity that brought the audience to tears and prompted a standing ovation.
In a show of support, Brie Larson, who would later take home Best Actress for her role in "Room," got up from her seat and hugged all 50 survivors after the performance as they left the stage. Larson's brilliant performance as a woman who was held in a shed for seven years with her five-year-old son and repeatedly sexually assaulted clearly had a strong emotional impact on her.
The biggest moment of the night was Leonardo DiCaprio's long-awaited win for Best Actor for his role as fur trapper Hugh Glass who is left for dead after a brutal bear attack in "The Revenant." His 25-year career includes six previous Oscar nominations, five as an actor and one as a producer. DiCaprio took the stage to a lengthy standing ovation. In his acceptance speech, he thanked  Director Martin Scorsese, whom he has worked with numerous times in his illustrious career. He also took a moment to discuss climate change and political greed, stating  "Let us not take this planet for granted. I do not take tonight for granted" as his close friend and former co-star Kate Winslet was seen in tears in the audience.
His "Revenant" director became only the third director to take home back-to-back Directing Oscars and cinematographer Emmanuel Lubezki became the first to win the award three times in a row.
It was "Spotlight" that would shine at the end of the night, as it took home Best Picture. Producer Michael Sugar accepted the award, stating that the film "gave a voice to survivors, and this Oscar amplifies that voice, which we hope will become a choir that will resonate all the way to the Vatican. Pope Francis, it's time to protect the children and restore the faith."
The Oscars have often been a platform for powerful messages and voices to be heard, and this year's ceremony embraced that.