Politics is no place for Planned Parenthood
By Patricia Negrón
Planned Parenthood has been all over the Internet recently, with most people clearly on one of the two sides of the argument: pro-life and pro-choice. One thing both sides can agree on is that it has been a hotter topic than usual this past summer.
A recent series of videos released by anti-abortion group, Center for Medical Progress (CMP), has only helped fuel the whole argument. The videos supposedly showed evidence of Planned Parenthood selling fetal tissue. However, specialists from a research company, hired by Planned Parenthood, said the video was heavily edited to drastically change its meaning, according to the New York Times.
A gag order was issued against CMP on July 31 to stop them from further publishing the videos or any information related to them, according to the Washington Post.
However, that didn't stop Republican presidential candidate, Carly Fiorina, from citing the videos in efforts to defund Planned Parenthood, she claimed in the recent GOP debate. According to Fiorina, the videos show "a fully formed fetus" while someone says that they "have to keep it alive to harvest its brain."
Understandably, pro-choice activists have not taken kindly to a woman continually trying to defund and remove women's rights. Protesters have even taken a dramatic stance and recently ambushed her by throwing condoms.
As the fiscal year is about to end, some Republicans are threatening to hold Congress hostage by not passing the continuing resolution, the temporary funding bill needed to keep all the agencies working, if federal funding is not removed from Planned Parenthood.
As the Seattle Times editorial board put it, "Lawmakers would be outrageously irresponsible if they imperiled women's health care across the country to justify a repeat of the 16-day government shutdown in 2013 that killed job growth and cost the U.S. economy $24 billion."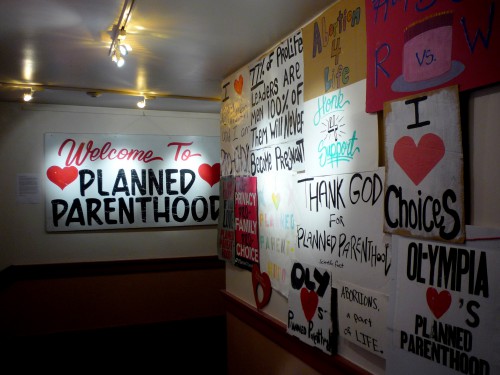 Fortunately, Planned Parenthood still has several outspoken advocates in Congress.
"I simply cannot believe that in the year 2015 the United States Senate would be wasting its time trying to defund women's healthcare centers," Mass. Senator Elizabeth Warren said addressing Congress on Aug. 3.
"You know, maybe on second thought I shouldn't be that surprised," she said.
The facts are on Senator Warren's side. According to the Wisconsin Gazette, Republicans in the State Assembly passed a bill that would, "redirect $3.5 million annually in Title X funding."
According to cincinnati.com, the last two abortion clinics in Southwest Ohio have filed a lawsuit in federal court to fight a new law, which could "leave the 2.1-million-person Cincinnati metropolitan area, the state's largest, without an abortion provider."
A Washington Planned Parenthood clinic that doesn't even provide abortions is now structurally unsafe after a fire that was deemed arson by investigators, barely weeks after an anti-abortion demonstration was held by activists.
Women have been fighting all of this by speaking up. According to BBC.com, the hashtag #ShoutYourAbortion, which women used to tell their abortion stories, was shared more than 100,000 times in 24 hours.
Another hashtag, #StandWithPP, was also used by many women who shared their stories of receiving a life-saving diagnosis or treatment from Planned Parenthood and asked their political representatives to stand with the organization.
According to World Health Organization research, lacking access to a legal and safe abortion does not help eradicate abortion, but instead it does make the procedure unsafe, especially for women from low socio-economic backgrounds.
Nonetheless, the war on women is clearer than ever, as conservatives across the country scramble to defund Planned Parenthood, even though most of the services they provide go beyond abortion.
Many people have pointed out the services of Planned Parenthood provide women with access to lifesaving tests and procedures, thereby preventing pregnancy in the first place.
But if Planned Parenthood only performed abortions, it's still inexcusable that so many years after Roe vs. Wade lawmakers are wasting time and money debating this issue.
Instead of trying to remove this right, we should focus on making sexual education and reproductive and sexual healthcare better and more accessible, including researching more birth control methods.