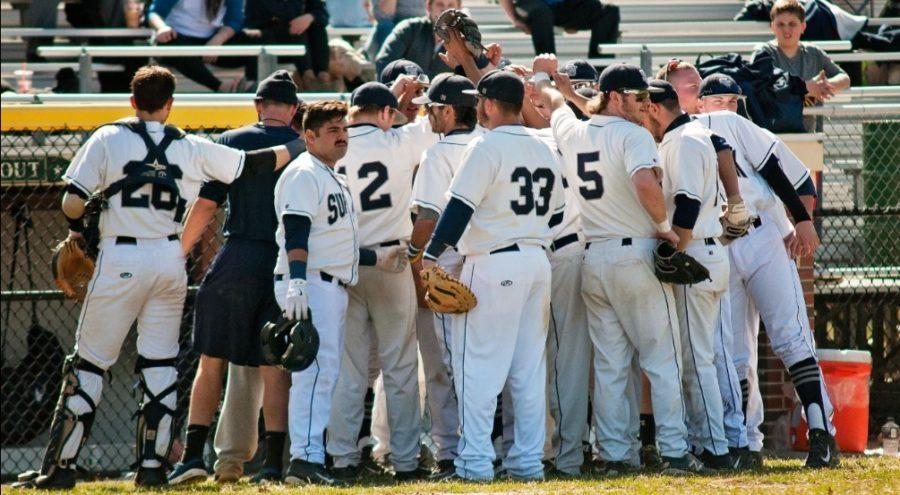 The Rams baseball team won the 2015 Great Northeast Athletic Conference (GNAC) championship on Sunday at Holman Stadium in Nashua, New Hampshire, defeating the Johnson & Wales University Wildcats by a final score of 4-3. Junior Drew Carter came around to score the game-winning run in the bottom of the 13th inning after an errant throw which allowed him to score from second base.
Sophomore Chuck Gibson got the start on the mound, turning in a quality start by throwing six innings and allowing three runs on eight hits. Gibson struck out two batters and walked just one of the 28 he faced. His effort would have gone unheralded had it not been for the Rams ability to salvage a run in the 7th inning to tie the game, when Brady Chant scored on a throwing error from the Wildcat's shortstop.
Junior pitcher Cal Carroll turned in a heroic relief effort to preserve the tie until the 13th inning. He threw seven shutout innings, surrendering only three hits and one walk. Carroll also struck out two, pounding the strike zone with 41 of his 54 pitches for strikes. He was credited with the win.
Backstop Jon Lapolla, a senior, turned in an outstanding performance offensively, going 4-5 with a run scored. He hit his ninth double of the season, and worked his 22nd walk. Chant also played well, going 2-6 with a double, and of course, scoring the game tying run.
Infielder Rob Marks who went 3-4 with a walk and two RBI, was not shy about relishing the victory. "It's such an amazing feeling," he said. "I feel somewhat relieved having finally gotten over the hump after putting in so much work and losing in the championship game the previous two years."
Infielder Adam Johnson felt similar to Marks, also sighting the proverbial bump that the Rams had failed to clear in the past few seasons.
"It's an awesome feeling," said Marks. "We've been so close in recent years and to finally take it home as a senior is something special."
Johnson earned a hit and a walk in the elongated contest.
And while Marks and Johnson's words are a great representation of the team's newly boosted moral, one player said it best.
"[It's] really just an unbelievable feeling especially after the inconsistent start of the season, and after what Suffolk baseball has gone through in the past five years," said Carroll. "Every year, winning the GNAC and getting to the NCAA tournament is our main goal and this year we got that done. We'll always remember that Sunday in April when we all dog piled in celebration after winning."
The win gives Suffolk an automatic qualifier into the NCAA regional tournament. This will be the fifth time in the last five years that the Rams will be making an appearance in the critically acclaimed tournament. The tournament will be held at Whitehouse Field in Harwich.