Women's basketball tops Anna Maria, improves conference record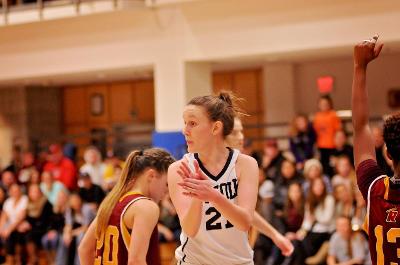 By Madeline Scovotti
The Suffolk women's basketball team left Worcester Sunday night not only with another victory under their belt, but also with their third straight win of the week.
The Lady Rams topped Anna Maria with a final score of 64-60, securing yet another win for the team in the Great Northeast Athletic Contest. The victory put the Lady Rams at an overall record of 6-10, with a GNAC record of 3-1.
Leaders in the game included senior Iliana Quadri, who was the night's leading scorer with a total of 21 points. Chelsea Campellone and Kelsey Schiebel also topped the leaderboard with the most team rebounds and assists.
Sophomore Georgia Bourikas said she believes a combination of good defense and good team communication helped her team to clinch the win.
"There wasn't one single play to point out because pretty much everybody contributed in one way or another whether on or off the court," said Bourikas. "That's what is really important about this team, we help each other out and we do things together as a team."
Being able to play defensively, she said, was particularly essential to secure the win against Anna Maria.
"Before each game we prepare differently for each different team," said Bourikas. "We go over film, their stats, their defense and we learn that team. We focus on our defense first because defense wins games. I also think we rebounded really well. That was one of the key things for this game because they're really athletic."
She also said that during Sunday night's game the Lady Rams were able to achieve one of their biggest team goals: holding the AMCATS to 28 points.
"One of our top goals in any game is to hold the other team to 28 points, meaning that they only score 28 points or less in the first half," said Bourikas. "And that's exactly what we were able to do tonight."
Bourikas, who typically plays guard, is out for the season due to an injury. Despite not being able to physically play, she said she still feels 100 percent a part of the team, encouraging and strategizing with her teammates from the sidelines.
"It's a different outlook because you see so many things happen in the game that you couldn't see if you were on the court. It's just different because you're not actually in the situation and you can't do anything about it to help the situation."
With two upcoming games this week alone, the Lady Rams are looking at a challenging week to keep their winning streak going.
The team's next game is on the road against Emmanuel College Thursday, which Bourikas notes, is one of the team's biggest rivals.  While Bourikas knows this next game will be a battle, she is confident in her team's abilities both on and off the court to work together and succeed.
Leave a Comment