Regan Gymnasium has a new look on the court …but at what cost?
By Grant Fries
As the 2014 Suffolk University fall sports season is in full swing, spectators of the basketball and volleyball teams may notice some recent changes to the Rams home court.
Suffolk's only on-campus athletic facility, the Regan Gymnasium, had its floor redone over the summer.
The entire court surface was sanded down to bare wood and repainted. Lines for basketball and volleyball were both redesigned said Director of Athletics, Cary McConnell.
The Ram's logo at center court was made larger, and the royal blue seen in the past was deepened to a navy blue. The logos of the NCAA and the Great Northeast Athletic Conference were added on both sides of the court.
The AD said the last addition to the court's new appearance was the navy  paint edging around the court.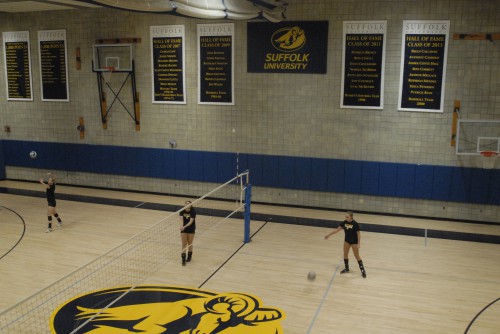 According to McConnell the entire court was then resurfaced.
The entire process only took a week and a half, according to McConnell. The Regan Fund, paid for by the naming of the gym, paid the $13,000 bill in full.
No funds for the resurfacing came from the school.
The renovations, however, come at a curious time, as the university has recently expressed interest in consolidating their campus, currently constructing a new academic building at 20 Somerset Street.
In 2012, former president James McCarthy said to The Suffolk Journal was under consideration for sale. Last month, President Norman Smith could not comment to the Journal on the fate of the building being only his third day on the job
However, these plans are still tentative, which Suffolk's Vice President of Marketing, Greg Gatlin, noted upon the sale of the Fenton building.  Sold over the summer for $15 million, the Fenton building was the only campus property the university has committed to selling, according to the Boston Business Journal.
Athletic Director McConnell had the same impression. "We're not sure it [Ridgeway] will be sold, and even if it does it won't be soon," he said.
According to McConnell, the courts playing surface was overdue for a renovation, noting player safety and quality of play as an important aspect of the renovations.
Beyond that, with the Regan gym being the only athletic facility on campus, the athletic department felt it should be "As first class as possible, it should feel like a collegiate basketball floor that our students and athletes can be proud of."
McConnell noted the marketing aspect saying, "When you bring in twenty to thirty colleges a year, [the gym] is a reflection of our institution."
Leave a Comment