The New England Electronic Music Festival — together
Article by: Angela Bray
"The lines between the genres of electronic music started to blur. We needed one week to highlight them all."
The first New England electronic music festival, Together, ran for one week beginning February 8th. The festival, aimed at promoting dance and electronic music production, featured events including panels, workshops, film screenings, bands and DJs, and mainly took place at venues in the Boston and Cambridge areas.
The festival came about as collaboration between a number of different people in the Boston electronic music scene. "After the success of house producers Soul Clap and techno's Tanner Ross, and after [electro musician] Coralcola stormed the blogs, and after electro broke into the mainstream, Thunderdome [a regular dance event throughout Boston] founder Mike McKay and I thought it was the perfect time to unite the tribes, as it were," said David Day, Creative Director of Together.  "The lines between the genres of electronic music started to blur. We needed one week to highlight them all."
Kids at the Bar played electronic music as special guests at Throwed, the weekly Thursday night Indie/Electro dance party at the Middle East Upstairs. Along with the duo was resident DJ E-Marce plus three live bands: And There Were None, Golden Girls, and The Hollow Sound. Attendees from all over danced uncontrollably to the electro, punk, hip-hop, and rock music sets. "I came for Together; the bands are really good and I love electro," said Chris Bradley, who traveled to the event from Cape Cod.
"A lot of my friends go to Throwed, and some were going specifically for Together," said Suffolk freshman Rachyl Goodine, as she headed out of the venue. "It was new to me, and I was pleasantly surprised."
On Sunday, artists took the stage at the Villa la Victoria Center for the arts in the South End. Hot Pink Delorean ft. Virtuoso, Roxy Cottontail, and Thunder dome residents Dev/Null, Red Foxx and Mistaker rocked the venue, and while Steel Lord cancelled at the last minute, Spank Rock was able to fill the bill. "It was really good music to dance to," said Derek Palmer, a Senior Biochemistry Major at Northeastern University. "They had really cool 3-D visuals, people were getting down. It was a fun time."
Panels and events throughout the week were very helpful to artists trying to get their names out, meet other musicians, and approach their audiences at a different level. "A festival gives the audience a chance to look beyond the music. So an artist can talk about their craft at a panel," Day explained. "For example, we had superstar producer Morgan Page discuss how he uses software to remix a track. We had international artists like Tobias Thomas from Germany discussing electronic music over there. At the record fair, artists could literally sell their own music and many of them did."
The series of panels and workshops began last Wednesday afternoon at MassArt. The afternoon began with Promote This!, a discussion regarding the methods involved with promoting individuals and events. Panelists included Maria Dilulis of Bon Ton Productions, SoGangsta Graphic Designer Kyle Brandse, Steve Theo of Pirate PR, international singer/songwriter Marcie Swartz, and Boston Globe reporter Emily Sweeney. Day, who is also the A&E editor of the Weekly Dig, was the panel moderator.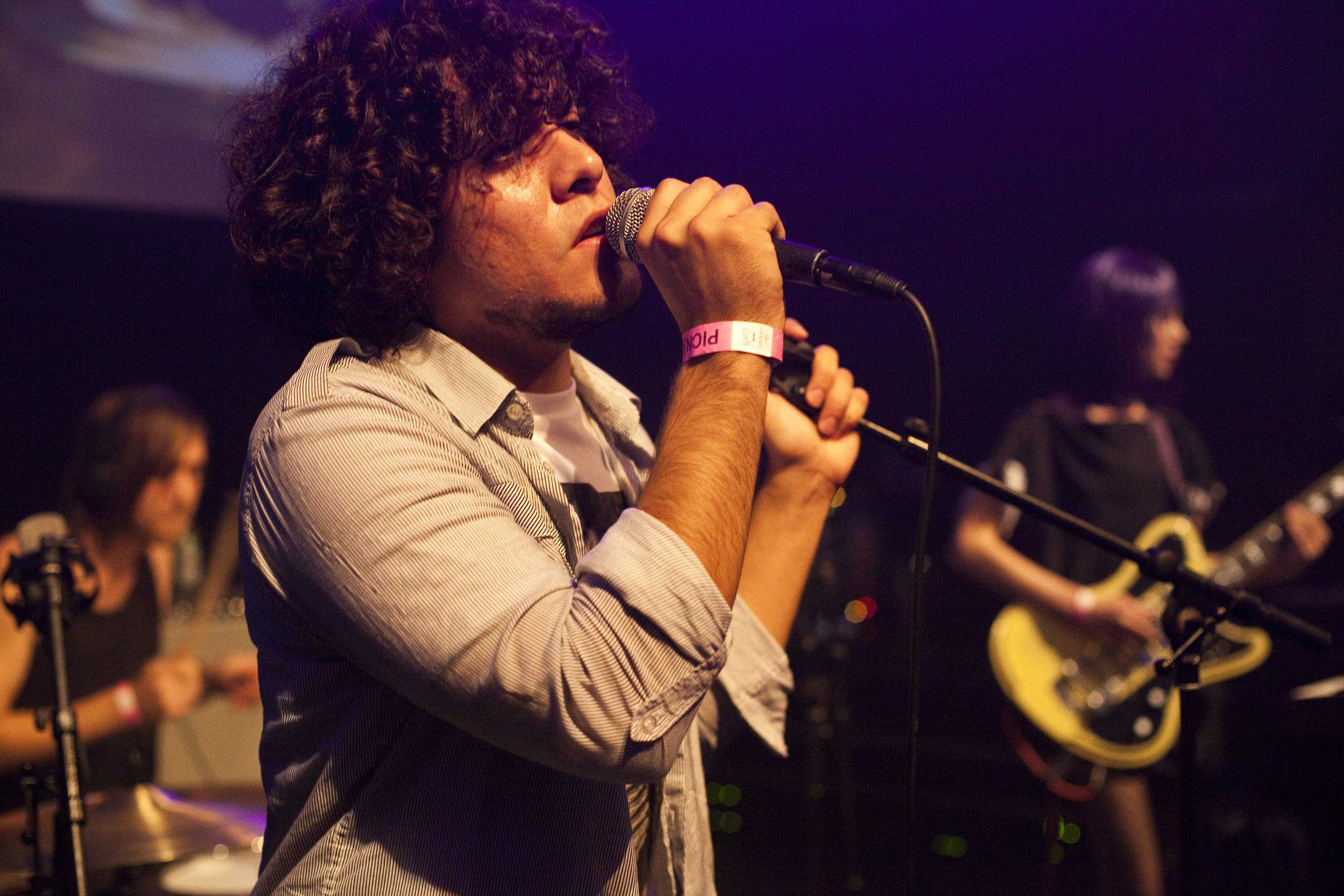 The discussion began with the question of which promotion methods, such as Facebook or MySpace, are effective. "You have to spend the time where you're getting the most results back," said Dilulis, the "club queen" who is dedicated to keeping electronic and house music alive in the nightclub scene. "Facebook is the biggest market, especially for club goers." Although Facebook is ideal for reaching target audiences, artists are still using MySpace to get their music out. "Everyone knows to look there," said Swartz, producer and host of the Behind the Lyric online radio show. "Russian artists are still checking their MySpace every day." Aside from Facebook and Myspace, promoters and artists use blogs such as LinkedIn, Virb, Twitter, SoundCloud, and Google Buzz. "Electronic music is still building," said Swartz.
The advantages and disadvantages of both online and flyer promotion were questioned. "Both, if used properly, can be very effective, said Dilulis. "Present yourself in a professional manner," said Brandse. "I think [print and web flyers] matter in the sense that you're taking the event seriously." Dilulis added that one-on-one contact is important when handing out hard flyers. Day advised artists, "Be sure that whoever's passing out your flyers is excited about the event."
Day noted that new media markets have been very good for the electronic music community. "The sharing of electronic music is by rights much easier than ever. Before, I never would have posted a link to a four-hour DJ set from a festival in Europe, for example, because of bandwidth issues. Now my friends even tweet DJ mixes to download wirelessly to their iPod. The social networking side of it has definitely allowed the genres to meld faster. You can more easily find the people who are more like you, but who may not go to the same club. You inevitably end up at the same DJ night though."
Anthony Flackett (aka DJ Flack), electronic musician, DJ, and multimedia artist, teaches a class called Beat Research at MassArt. In the workshop, also called Beat Research; he distinguished the differences between music videos and video music, as well as the method of mixing music videos, called VJ'ing. It is the "cycling of recycling and making things cooler," said Flackett. His lecture focused mainly on the history of video music and presented his own digital videos, along with videos of the 1930's and 1940's. He explained the idea of hearing music and the importance of "letting your imagination dictate what it'll look like."
Day also noted the importance of Boston as a city in terms of electronic music. "Because of the massive academic network in Boston, electronic music's creative center is in its universities. Members of Passion Pit, a band highly-influenced by electronic music, went to Berklee. One half of DJ duo Staccato went to Emerson and so forth. The advantage of having access to technology like that, for a younger producer, cannot be overstated."
Ultimately, the future of electronic music looks bright for our fair city. "Genres will continue to blend." Day stated. "The best DJs will know how to go from drum and bass to house to dubstep. The best producers will find the common ground between breaks, techno and jungle and so forth. Boston will continue to become more prominent in this discussion. I think that in a few years it will be hard to talk about the current electronic scene in America without talking about the sound coming from Boston."
Matt McQuaid also contributed to this article.
Leave a Comment