Coach Mickelson brings new hope for volleyball
By Grant Fries
Working for the marketing department at Northeastern University by day and coaching volleyball by night, Kristine Mickelson walks and talks like someone who knows what she's doing.
It's this confidence that helped lead Suffolk Women's Volleyball to their first playoff tournament appearance in five years in 2013. While the 2014 hasn't gone as smoothly, the 26-year-old Coach Mickelson still has confidence in her team.
Growing up in San Diego, Mickelson found herself excelling at volleyball and water polo, lettering in both sports. After taking her high school, Scripps Ranch, to a regional state championship in 2005, Mickelson found herself wanting to attend a college in the Boston area.
Mickelson settled on Bentley University, attracted to its small size and closeness to the city.
"Bentley ended up being a really great school for me," she said.
It was while at Bentley that Mickelson further developed her skills on the court. In four years, Mickelson never missed a game. A Division-II East Region All-Tournament team selection in 2009, Mickelson was also a two-time All-Conference selection by the Northeast-10 conference her junior and senior years. She became one of the top players at Bentley due to not only her prowess on the court but her tireless work ethic as well.
"I remember working so hard one practice I cried at the end," said Mickelson, "I was really the most competitive with myself."
It's these same high standards that Mickelson holds her team too. As an assistant coach at Suffolk, she established herself as the 'bad cop.' However, as her team changed and Mickelson eventually became head coach, she left the bad cop role to her assistant coach, Brook Tallinger.
Mickelson instead focuses on building her team's confidence, fundamentals, and work ethic. While a volleyball team usually has 12-14 players, Suffolk's has only nine.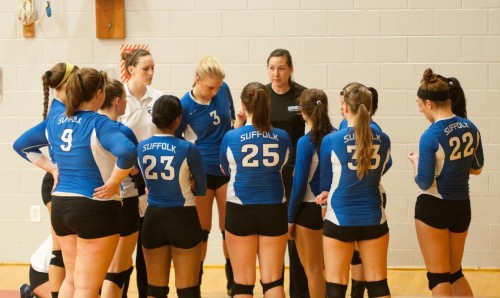 "I have nine girls who really want to be here," said the undeterred Mickelson, "I see us as small but mighty."
The 2013 season, said Mickelson, "was the perfect storm." With seasoned players and a number of talented seniors, such as Sarah Arbogast, Mickelson led her team to a number of big wins. With a strong team and focused leadership Suffolk closed out their season with 16 wins and 14 losses. Qualified for the playoffs, the Lady Rams lost in the first round.
Like all college sports, teams change season to season.
With her seniors gone and faced with rebuilding her team, Mickelson looked for women who have potential, passion and positivity. This has given her a team with a number of talented freshmen, such as Krista Iacobucci and Megan Correia, as well as strong leadership from her upperclassmen, such as senior Glamarys Sierra.
As for the rest of the 2014 season, Mickelson hopes to build on the team's 12-18 record. Coming off a win against the Salem State Vikings on Saturday, the Lady Rams travel to the Albert Magnus University Falcons this weekend. They face St. Josephs College of Maine as well as the hosting Falcons in a GNAC Trimatch.