2014 NHL trade deadline brings surprises, excitement
Ask any hockey fan about the NHL's yearly trade deadline. Usually, they will react with a large dose of apathy. For the past couple of years, the trade deadline has been over-hyped, only to be met with a flurry of minor to mid-level trades.
This year was totally different. Since the Olympic roster freeze lifted on Feb. 26, 34 transactions have been made in the NHL, many of them involving huge names. 20 of these transactions came on deadline day, March 5, before 3 p.m.
In the biggest trade before deadline day, Buffalo's All-Star goaltender, Ryan Miller, and forward Steve Ott were moved to the St. Louis Blues for Slovakian Olympic goaltender Jaroslav Halak, forwards Chris Stewart and William Carrier, a 2015 first round pick, and a conditional 2016 draft pick. This trade took place on Feb. 28, only two days after the roster freeze had been lifted. Miller had been at the center of trade speculation for the past couple of seasons, as the Sabres needed to rebuild after several disappointing seasons, and recognized that a talent like Miller deserves a shot at a Stanley Cup with a contending team. The Sabres made another big splash on deadline day when they flipped the recently acquired Halak and a 2015 draft pick to the Washington Capitals for goaltender Michal Neuvirth and defenseman Rostislav Klesla. The Sabres managed to acquire depth and prepare for the future at little cost. While they certainly downgraded in net, the new tandem in Buffalo of Neuvirth and Miller's old backup, Jhonas Enroth, is still nothing to scoff at.
Prior to the acquisition of Miller, the Blues were already a legitimate Cup contender. They currently hold the second best record in the NHL, with 41 wins and 88 points, and rank third in the league in goals against. Add Miller in to the mix, who managed to stay in the top ten in save percentage amongst starting goaltenders in the league this season while playing for the absolute worst team in the league, and the Blues are looking like the team that can challenge the explosive Anaheim Ducks in the Western Conference.
By far the biggest trade to actually occur on deadline day was between the New York Rangers and the Tampa Bay Lightning. Since the end of the Olympic break, rumors had been swirling around the two teams. New York-based sports broadcaster, Boomer Esiason, began vocally riding a rumor on his show that the two teams were interested in swapping captains. Tampa Bay's captain, Martin St. Louis, is last season's scoring champion following his 60 points he put up in 48 games during the shortened season. St. Louis was supposedly feeling very bitter about being left off of team Canada two Olympics in a row, a wound made even more bitter by the fact that his general manager in Tampa, NHL legend Steve Yzerman, is also the general manage for Team Canada.
Up north in New York, Ryan Callahan was in his third season as captain of the New York Rangers.  His contract is due to expire in July, and he was in the thick of negotiations with the team to sign a contract extension. However, Callahan was asking for too much money for too long of a time for Rangers general manager, Glenn Sather, to take the risk.
The talk was initially treated with skepticism, even laughter in some circles. St. Louis, although 38, has a resume that includes a Stanley Cup championship, five All-Star Game appearances, a regular season MVP award as voted both by the players and the general managers (both in the '03-'04 season), and two Art Ross trophies (awarded at the end of each regular season to the player who finishes with the most points). Callahan, while almost ten years younger at 29, is a more physical, gritty player who can chip in offense in moderate doses. He has never even eclipsed 70 points once in his six NHL seasons, something St. Louis has done eight times in his career.
It is also important to note that the age difference between the two is deceiving. While St. Louis is 38, he is in tremendous shape and ageless on the ice. In the last nine seasons, he has missed only seven regular season games. He can definitely turn out to be like Niklas Lidstrom or Jaromir Jagr, and there is a good chance he can play for another good five seasons.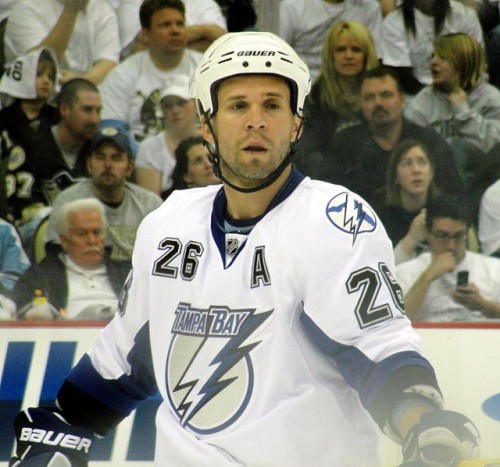 Callahan plays a very different style than St. Louis. He blocks shots, checks often and hard, and always finishes. His aggressive and physical style of play has taken a toll over his body. In five full NHL seasons (he spent some time in the minors his rookie season) he has missed 37 regular season games due to a myriad of different shattered bones and appendages. Players like Callahan tend to decline and retire by the time they are in their mid-30's, which could mean that him and St. Louis have about the same amount of seasons left anyways.
But, to the surprise of the hockey world, on March 5, Callahan and a couple of draft picks were shipped south to Tampa in exchange for St. Louis. In the short term, the Rangers walk away the victor here. It seems like St. Louis pressured his general manager to trade him, and while Yzerman did walk away with a decent haul, fans in Tampa have been left hurt and scratching their heads. While New York fans miss their old "Captain Cally," many are also excited to have a shiny new toy to play with.
Other notable deals from this years' deadline include Vancouver Canucks goaltender Roberto Luongo being shipped back to where he broke out in the NHL with the Florida Panthers, Marian Gaborik to the Los Angeles Kings, Andrej Meszaros to the Boston Bruins, Thomas Vanek to the Montreal Canadiens, and Tim Thomas to the Dallas Stars. These are just a few more of the big names that have found new homes in the last few days.
All in all, it was a very entertaining trade deadline this year. Huge trades were being made left and right, and several teams have managed to overhaul their look or prepare themselves for a rebuild. While we can't expect every year to have such an entertaining deadline, it was great to see a lot of teams get in the thick of it in the first week of March for the first time in a while.
Leave a Comment