50 years after The Beatles came to America, Suffolk professor Gallant still celebrates
When I studied abroad in Florence, The Beatles played a live show every Tuesday night to a packed bar hidden just around the corner from the famous duo. The event was wildly popular among 20-something-year-old Italians and expats alike as Gianni, Paolo, Giorgio, and Ringo rocked through a three-hour set of the influential band's catalog from "I Want to Hold Your Hand" to "Being for the Benefit of Mr. Kite."
While, of course, they were just impersonators in a cover band playing hits from decades ago, regulars and newcomers showed up every week at 10 p.m. to hear them play. How is it that generations after the Fab Four hit the big time, and 50 years after they stole America's hearts on The Ed Sullivan Show, people still identify with the band and their music?
That's what seminar for freshmen instructor David Gallant has been exploring in his Suffolk course on The Beatles for almost 10 years. In his class this past week, the topic of discussion was, of course, The Ed Sullivan Show anniversary.
"A lot of people would say their world changed after seeing The Beatles [on The Ed Sullivan Show,]" Gallant said just before the 50th anniversary of the broadcast, which happened on Feb. 9.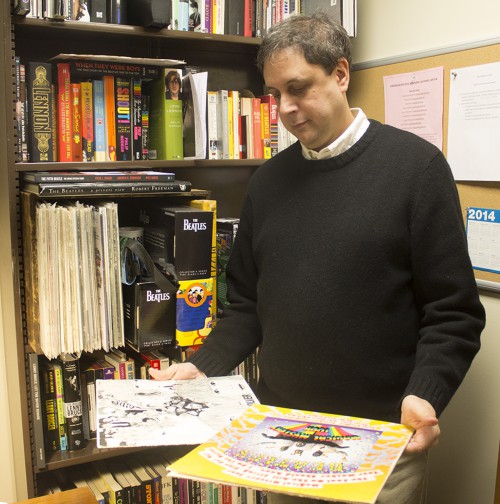 In an on-air interview on Sunday with Chachi Loprete, host of WZLX's "Breakfast with The Beatles," Gallant spoke about the importance of the show in catapulting the band into timeless fame. "Sullivan presented them with some legitimacy," he said, "because [The Beatles] were on there with some established acts."
The show was so widely watched across New York City when it aired that myth has it there was not a single crime committed in the city that night. "It might as well be true," Gallant told WZLX. "It's so legendary." (Gallant's full interview with Chachi can be found in two parts on wzlx.cbslocal.com.)
The Beatles came to New York City in February 1964, just a few months after another momentous occasion in American history — the death of President Kennedy in November 1963. "The country was still in some kind of mass depression after the JFK assassination and then The Beatles landed at newly renamed JFK airport and brought joy," Gallant told The Journal.
"The Beatles slide into that framework of glamour and hope in that way," he said.
The social and economic reality in America is what allowed The Beatles to become such a cultural force in the 1960s. "This is the first time we could refer to someone as a teenager," Gallant explained. As young people began to have leisure time and more freedoms in America and the UK, The Beatles became the poster child of this phenomenon.
Over his years at Suffolk, Gallant has taught classes in English and communications. When he taught English 214, literature from the romantic period to the present, he taught a unit on post-war youth culture in England that included The Sex Pistols and The Beatles.
"Literature is a very large world, you need to teach the culture of the time too," Gallant said. And so, out of that, his Beatles class was born.
While Gallant was just a baby when The Beatles came to America and still just a kid when they broke up, he became a big fan of the band. Hearing it on the radio and having the albums around the house, he had a love for the music.
"At first it was just something that I liked," he said, "Now, it's become academic, but it still hasn't sucked all the joy out of it for me."
As you would expect from a major fan, Gallant had trouble picking out his favorite songs and albums. "It changes," he said, "Over a course, depending on what students I have and what they think of it all. Some songs I like because of the story or history and some because of the music."
His favorite song right now is "Tommorow Never Knows" and "She Loves You" is "right behind that because of the sound and feel of it." Without hesitation, his favorite album is Revolver because he believes it is the best collection of music. The White Album is another top album for him since it has such a variety of songs. "It's chaotically beautiful," Gallant said.
Trying to get him to choose a favorite Beatle member is a bit more difficult. Instead of throwing out a name, he offered some sage wisdom from people who were close to the band.
"Brian Epstein, the manager of the Beatles, once said they were four composites of one human being," he said with a grin. "And Sean Lennon said the Beatles are like a car — you need all four wheels." 
Leave a Comment