We Are Music hosts RightNow! Benefit to donate all proceeds to Philippines relief
Hang on for a minute...we're trying to find some more stories you might like.
By Alexandra Martinez
With so much music in and around the city of Boston and so much local flare for fun it was only natural to hold a benefit concert within city limits. And with Cambridge based and born We Are Music, the event only came naturally as a way to provide aid and awareness within both a local and global community. It will also be a way for both local music and local cuisine and brewing to showcase the local community in and around Boston.
On Feb. 1, We Are Music will be presenting "Right Now!" a concert to benefit the victims of Typhoon Haiyan, and as well as a panel with discussions on climate change; with all proceeds from the events going to Typhoon relief.  The benefit show will also feature locally brewed beers and distilled spirits, as well as a free oyster bar for the patrons of the show. It will be used as a display of local fare and local tastes from the area, as well as a chance to introduce people to new brews.
Local band Bearstronaut and New York-based Escort will be two of the performers headlining event. Along with Escort and Bearstronaut, the event will feature mixes and spinning by Juan Macclean who is billed for his "epic mixes" and Kon another local based DJ who was described by Soul Clap as "the best Disco/Funk/Soul/Boogie DJ in the world" and will be spinning a set. Along with the music, the climate discussion will be led by speakers Michael Mann, Cameron Wake, Jack Healey and Bill McKibben, all of which are authorities on climate change.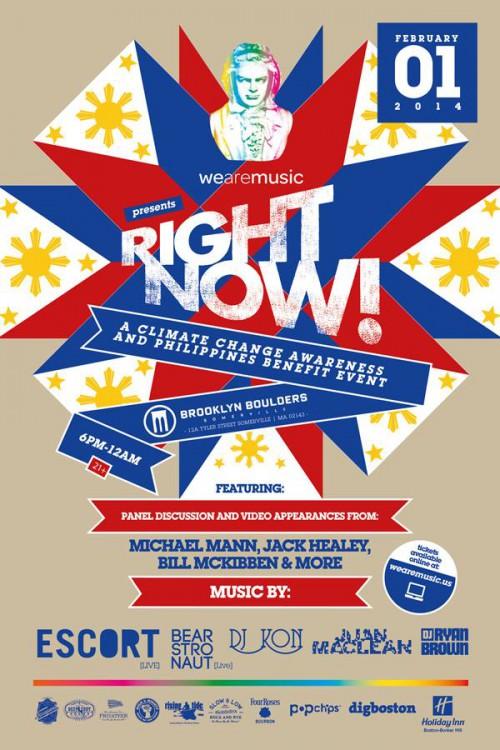 Mann is the creator of the Hockey Stick Graph and author of The Hockey Stick and The Climate Wars: Dispatches from the Front Line, in which Mann describes what led him to become a climate researcher. Wake is a professor at the University of New Hampshire and a climatologist with more than 500 papers published on the subject. Healey has been called "Mr. Human Rights" by U.S. News and World Report. Healey has spent the bulk of his career inspiring the world's youth into using peaceful protest and   Non-violent activism. Healey also spent 12 years as the head of Amnesty International. McKibben is the founder of 350.org and has worked in almost every country fighting against the use of fossil fuels; McKibben will be skyped in for a screening and panel session.
Right Now! will be held at Brooklyn Boulders, Somerville, which is a 40,000-square-foot indoor climbing facility and co-work space and is located at 12A Tyler St, Somerville, Mass. with all the proceeds going to help the victims in the Philippines. The event hopes to raise awareness on the climate issue. The event is sure to be a full night for everyone participating and should be an experience. Tickets for the event range from $25 to $60 and can be purchased at www.wearemusic.us.