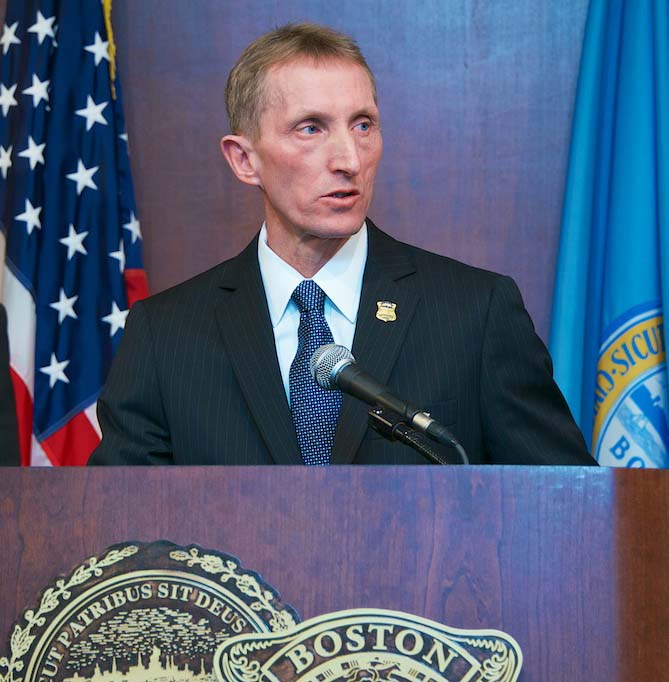 Marc Vaillancourt
William Evans remembers riding the bus from South Boston to downtown for classes at Suffolk University in the early 1980s. He would walk by the State House on his way to campus, where he earned a degree in government.
"It wasn't as big and beautiful as it is now," said Evans, 55, whose journey through college was of a traditional Suffolk commuter student. The South Boston native "went in in the morning and left in the afternoon."
One class that particularly struck Evans was on drugs and alcohol. Professor Archer, as he recalled, took the class to Alcoholics Anonymous meetings, and from there, Evans knew he wanted to be a Boston Police officer. But, he said he never expected to be named commissioner.
Evans has served the BPD for 33 years, and was named commissioner as one of Mayor Martin Walsh's first acts in office earlier this month. He was named acting commissioner in the fall after Edward Davis resigned.
"I realize I have a tough act to follow," said Evans of Davis in a telephone interview. Just hours before his swearing in ceremony last Friday, Evans told the Suffolk Journal about five of his goals as commissioner.
First, he hopes to increase community policing, an item which also appears on Walsh's agenda, by having more officers on foot and on bike. Going hand-in-hand with that, he plans to reduce violence within Boston's neighborhoods. Evans also hopes to lower the number of guns on the streets as well as increase homeland security. One goal he has already begun working on is adding diversity to the department.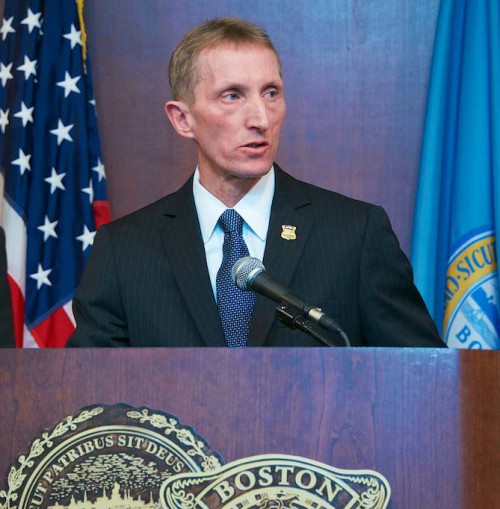 Evans, who is not a fan of being in the limelight, gives Suffolk credit for helping him get to where he is now. He began his college career in Hawaii, but enrolled at Suffolk because he was homesick.
Remembering the class on drugs and alcohol, Evans said, "I always look back and thought that was an eye-opener." Other classes that stuck with him were government courses with Professor Burg and juvenile justice with Professor Morton, he said.
"I remember a lot of good classes," Evans said. Suffolk gave him foundation and skills essential for his field, he said.
While taking his classes at Suffolk, Evans worked as a cadet with the BPD, starting his career. "The department was good with flexibility," he said, "making sure I got my education done."
If given the chance, Evans said he would definitely consider teaching at Suffolk. He has taught a course off-and-on for 10 years at Boston University and has spoken during classes at the Sawyer Business School.
"I love teaching," Evans said," [teaching at Suffolk] is something I'd love to do 'cause it's where I came from."
Evans has lots of advice for college students. He said, "appreciate what you have and what your parents are doing. Take college as serious…it's not about socializing. Dig in and find out what you're going to do in life"
Evans also said, "get a job that you're going to be happy," which is something he feels he did. "There has never been a day I didn't want to go to work."
When Evans thinks of his proudest moments on the BPD force, a few come to mind.  He remembers escorting presidents from their planes when they arrived at Logan International Airport, working duty at Fenway Park during Red Sox games, Occupy Boston, and of course, last year's Boston Marathon.
"It was a terrible tragedy," Evans said, "but as far as something that's always going to stick in your mind, nothing is going to top that."