Film 'Nebraska' tells tale of Woody Grant, unbeknown millionaire learns more to life than money
In the day and age where films of nostalgic and apocalyptic values are the current hot commodity, Alexander Payne's  return home with Nebraska serves as not only a requiem for an antiquated man longing for preservation but a look at a culture (or lack of) that is fading like celluloid.
Perhaps that's the reason for the stylistic choice of opting to shoot the film digitally and in black and white. Like all films that indulge in obsessions, Payne decides to plant the audience in the ever fading world of Woody Grant (Bruce Dern) and his exodus from Billings, Mont. to Lincoln, Neb. to collect $1 million dollars that he has supposedly won in a sweepstakes.
Will Forte of SNL fame stars as his son David, who half-hazardly  joins his father on the journey to hopefully capture a better understanding of a man whose living in his head.
It's hard to believe that The Detective and MacGrubber play the no-so idealistic and compassionate father and son duo but you better believe that this film is unmistakably a Payne film. Family, detachment, alcoholism are all present themes which are reoccurring motifs for Payne, but they are subdued to the point where you cannot recognize them anymore.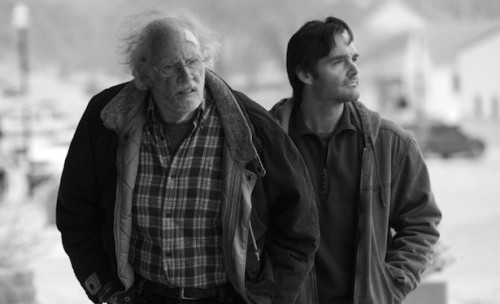 The once rapid, dark humor has been eased down to a putter. A great amount of it is due to June Squibb who plays the mother and wife Kate Grant, who holds the role with an untamed gusto.
For me, the subdued qualities speak volumes as the film continues. We see how isolated Grant is from the world and how most think he is a stubborn drunkard who is slowly losing his mind. I believe that's another theme in the film, decay. Decay of relationships, values, culture, families, wealth and most importantly decays of self.
When the duo have to stay with family in Hawthorne, we are brought to a true ghost town that one could mistake for Chernobyl. It is there where we meet the rest of the inhabitants of the Grant's former home, who themselves are apparitions of the americana of yesteryear.
Forever trapped in the same routine but only until we meet Ed Pegram (Stacy Ketch) who is Grant's former friend and business parter; it's then that we truly start to understand him. Pegram is a leech, an antiquated shyster that get's quite jolly when discovering Grant's would-be fortune.
When the final shot of the film is shown, you feel truly satisfied and a real sense of closure.
With surprise appearances by Rance Howard and Bob Odenkirk to round out the interesting casting choices, we're left with a film that has a true heart and hope even though it's surrounded by the negative decay.
Nebraska is a film that is still true to Payne. My only complaints are that the slow burn pace does tend to drag and the scenes that you wish you could dig your teeth into, are gone before you are able to digest them.
While the pacing does curve the effectiveness of the payoffs, the film's message does still manage to resonate.
After the screening, Will Forte came out to interact with the audience through a Q&A where he talked about how he bonded with his co-star Bruce Dern, how this was truly a "happy accident" that he got the role; and that this character is the closest to him as a person. Forte addressed that he "doesn't plan on stopping comedic acting but that the only thing [he] wouldn't do is porn. "You know what, I wouldn't rule out porn." he said.
Nebraska comes out on Nov. 15 and if you love the questionable decay of Americana; then  this would be up your alley.
Leave a Comment