Women's Soccer set for quarterfinals
It is that time of the season to either win or go home.
Suffolk University's women's soccer team is set to tackle the GNAC playoffs and have the chance to upset Saint Joseph's (ME) this Saturday, Nov. 2.
The Lady Rams (6-11) have only won one of their last five games, but have a decent conference record of 6-5. They had previously lost to Saint Joseph's 2-1, which is not a terrible thing at all for the Lady Rams. They had more shots on goal than Saint Joseph's, but they just could not get the ball into the net more than once, and forward Taylor Miranda's goal helped the Lady Rams stay in the game for the whole second half. If they can manage to capitalize on their shot attempts, the Lady Rams can easily contend against any opponent.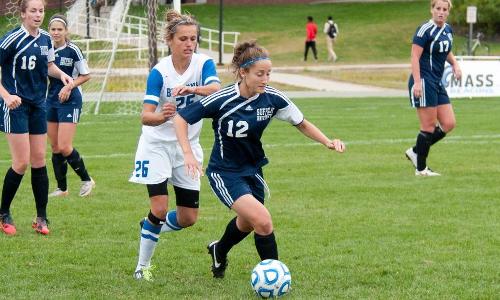 The thing that the Lady Rams need to worry about is their defense. They allow on average about 2.5 goals per game, and only average 1.5 goals scored. If the Lady Rams give up more than two goals, they will stand no chance since they only scored more than three goals in three games this season.
Although the Lady Rams are one of the lower seeded teams this season, it is not impossible for them to beat Saint Joseph's since they are a mid-level team in the GNAC.
If the Lady Rams can win, they will get to face one of the top seeds in Lasell or Albertus Magnus, which would be an outstanding accomplishment for this team that started the season 0-5.
Leave a Comment